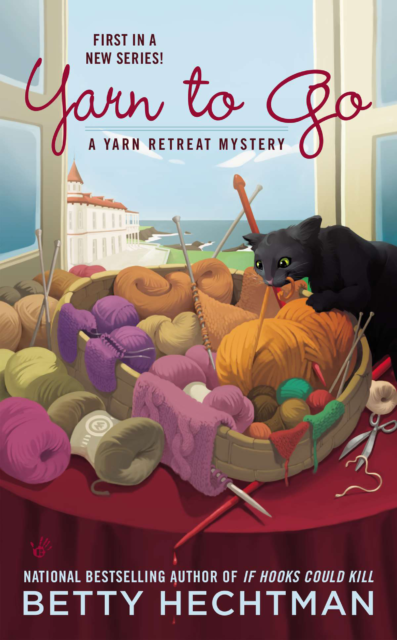 I listen to a LOT of audiobooks while I'm crafting. Like, a lot a lot, since I work from home and I'm a professional maker. I listen to so many that I actually sometimes feel kind of guilty for taking such frequent advantage of the New York Public Library's digital assets. (I grew up in Michigan, and I've decided to blame this bizarro library guilt on some sort of misplaced Midwestern politeness instinct run amok.) Anyway, the point is, audiobooks are great. And, if you're a crafter, they're even better. Because, while knitting in front of the TV is pretty nice, curling up with your project bag and a crafting-related cozy mystery is simply delightful!
Awkward-New-Yorker-meets-book-cheerleader intro aside, here's where I'm heading with all of this: Since I listen to so many audiobooks, and so many of them are in-genre for me professionally, it seems a little bit weird that I'm not writing about them. (Why have I not been writing about them? For years and years?) So, to remedy that, each time I listen to a new craft-related audiobook, I'm going to write up a quick review to share with you, in case you're looking for a new book to go along with your next project. You can expect my reviews to be short-ish, honest, and relatively spoiler-free. And I will almost certainly give bonus points for sidekick pets.
Onward to my inaugural audiobook review:
Title: Yarn to Go (affiliate link)
Series: A Yarn Retreat Mystery, Book 1
Author: Betty Hechtman
Narrator: Margaret Strom
Rating: 3/5 stars ★ ★ ★ ☆ ☆
Craft and genre: Knitting cozy mystery
Publisher's description/jacket copy:
Dessert chef Casey Feldstein doesn't know a knitting needle from a crochet hook. But after her aunt dies unexpectedly, leaving Casey to run her yarn retreat business, the sweets baker finds herself rising to the occasion—and trying to unravel a murder mystery…

When Casey finds out that her late aunt's business, Yarn2Go, has one more yarn retreat scheduled, she decides to go ahead and host the event, despite her complete lack of experience as a knitter. At least the retreat is on the beautiful Monterey Peninsula.

But the idyllic setting is soured when a retreat regular is found murdered in her hotel room. Feeling a sense of responsibility, Casey begins to weave the clues together and detects a pattern which may shed light on her aunt's suspicious death. Despite the danger, the last thing Casey plans to do is retreat. She'll catch this killer…or dye trying.

Includes a knitting pattern and a recipe!
[Book cover image and publisher's description via Penguin Random House]
My thoughts on the story:
This is the first book in a cozy mystery series, and first books always have some pretty heavy lifting to do: In the end, I need to feel a connection with/give a damn about the main character(s), fall in love with the location/setting, and, especially in small town cozies, process a whole lot of backstory and history. Then, on top of that, the mystery needs to be sufficiently…mysterious. That's an awful lot of work for one relatively short book!
Alas, in the end, while I wasn't bored while I listened, I definitely didn't feel immediately sucked into Casey's Monterey Peninsula-based world. I rolled my eyes a bit at her inability to behave like a grownup, and then rolled them again at her near-childish misunderstandings with the cop down the street, who is destined, presumably, to eventually become Officer Boyfriend later in the series. (Seriously, Casey, no reasonable person would assume that the combination of cars parked outside plus music coming from a garage could only mean one thing: nightly orgies!) I also didn't feel a particular connection to most of the cast of characters attending Casey's knitting retreat—I wanted to want to root for them, but they just all seemed to need a bit more filling out. I did, however, absolutely love Frank, a private detective from Chicago, and Casey's former boss. He was funny, engaging, and seemed interested in Casey and her future, which, in turn, made me a bit more interested in her too. (Frank is my favorite. More Frank in future books, please!)
When it came to the mystery itself, I must say that I was pleasantly surprised! Though I'd already figured out the murderer's identity pretty early on, the actual, ahem, unraveling of the whodunnit relied heavily upon the kind of attention to detail that yarn crafters will definitely appreciate. I just wish that focus had also extended to a few other areas of the plot—say, in regards to estate settlements and/or how one might go about selling a house, or the fact that dudes knitting in public is not generally a thing that's a big deal these days (or historically, for that matter, *cough* traditional knitting guilds *cough* World War I *cough*).
My thoughts on the narrator:
Just fine. There were a few pieces-of-unattributed-dialog-said-in-wrong-voice mishaps, but no complaints otherwise.
My thoughts overall:
This book didn't blow me away, but it was a perfectly pleasant companion to the crochet project that I was working on while listening. I will probably give Casey and Yarn2Go another chance in the future by listening to the second book in the series.
Feline/canine sidekick bonus points awarded:
KITTY!
You can buy the book here: Yarn to Go Audible audiobook (affiliate link), or request it at your local library!
You can also add it on Goodreads here.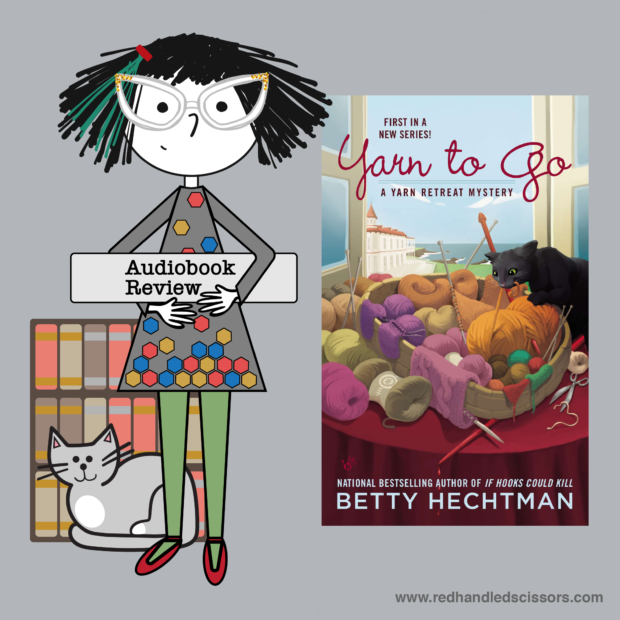 Pin the books on your to-read list:
Click here to read more cozy mystery reviews!
Have you listened to any good books lately? I'm always open to recommendations!
A quick note on *literature*: There have been plenty of times in my life when I have been an insufferable book snob, and I have the fancy creative writing and comparative literature degree to prove it. Thing is, being a book snob is a pretty asshole move, because reading is great, and books are great, and people who read are great, and that remains true regardless of what said people are actually reading. So, while I do occasionally delve into a Truly Great Book, I also effing love a good cozy mystery or a deliciously trashy romance (Regency-ish is my fave, if you were wondering), especially if the plot/series is crafting-related. So, that's the kind of thing that you can expect to find in my new review series. (Luckily, the publishing gods continue to bestow a growing number audiobooks in the crafting-related novel genre upon us!) Hooray, books!