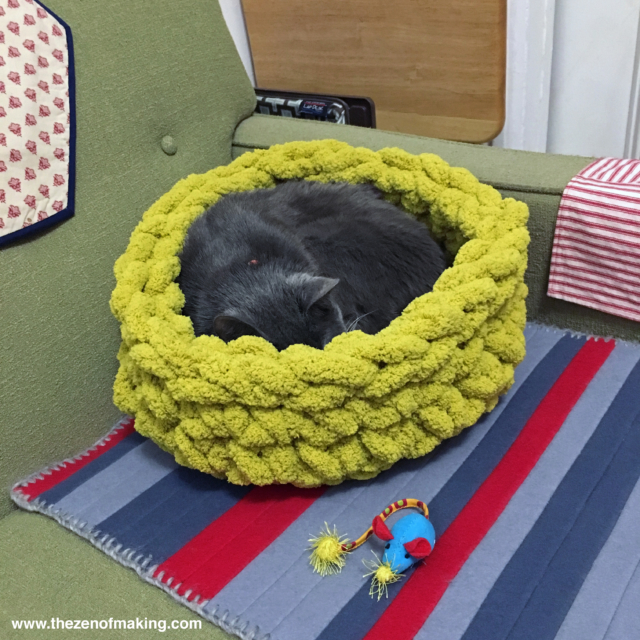 Remember when I made that super bulky crocheted cat bed tutorial a few years ago, and my cats absolutely fell in love with it? (The bed, that is. Not the tutorial. Cats almost certainly can't read!) Well, it was such a big hit that I had to revisit the project. But, this time, I used the fluffiest, most ridiculous yarn I could find: Bernat Blanket Big yarn.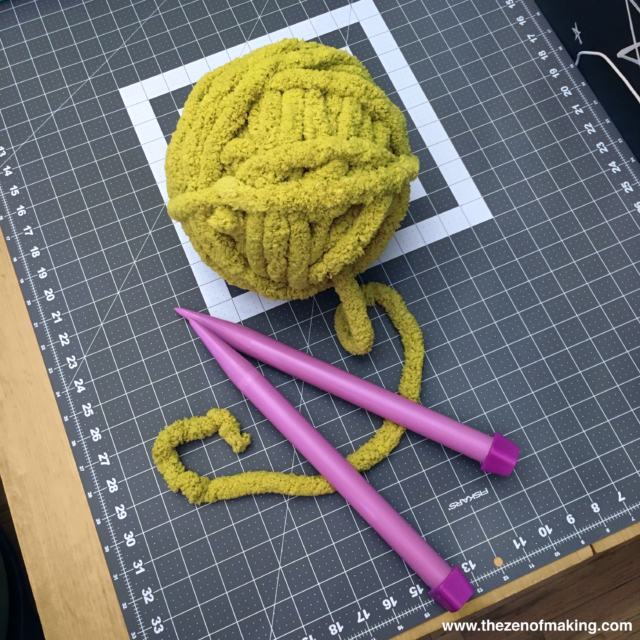 The Yarn:
Okay. Let's talk about this yarn, and what a pain in the ass it is to work with, and how shockingly good it ended up looking, despite the fact that it's basically crocheting with a tube of not-quite-shag carpeting, only softer. (Yes, those are knitting needles in the photo above. But I gave up on knitting with this yarn almost immediately, so onward with the crochet!)
Here's the story:
I was wandering around my local Michaels with Kim Werker, who was visiting NYC at the time, and we were on the prowl for one of those over-the-top instant-gratification craft kits. You know, the kind where you can drink a bottle of wine with your friends while you're making things, then dissolve into fits of laughter at how bad/amazing said things came out? Yeah, those. (What? This is how pro makers blow off steam!) Alas, search as we might, the gods of DIY did not see fit to bestow the Perfect Kit upon us. But, on the way out the door, we laid eyes on this glorious puke green monstrosity of a jumbo yarn—on sale for $4.99 per 32 yard skein—and became immediately convinced, for reasons unclear, that a couple of skeins needed to come back to my apartment. The rest, as they say, is cat bed history.
Here's the catch:
The only problem with this project update is that Bernat Blanket Big yarn seems to have joined the sad ranks of mythical discontinued crafting creatures. Or, at the very least, it doesn't actually seem to exist anywhere right now. So, if you love how this update turned out and want to try it for yourself, here's what I do know: I found it at a Michaels in Brooklyn in February, but I can't find a current link for where one might acquire it now. So, if you want some, maybe check the sale areas at your own local Michaels? (I did find it listed in an archived project on the Michael's website, so at least I know I didn't conjure it up in my dreams or something.)
Note: It is NOT the same yarn as regular Bernat Blanket, which is widely available, and much smaller in weight.
Yarn details, in case you want to track some down:
Yarn: Bernat Blanket Big Yarn
Colorway: Moss Green
Yardage: 32 yards per skein
Yarn Weight Category: 7 (Jumbo)
Gauge: 2.5 sts for 4"x4" square
Needle size: 25mm, 50US
Hook size: 25mm, US U
Materials: 100% polyester
Yarn feedback: Knitting with it is an exercise in frustration, no matter how loose your cast-on is. Crocheting with it isn't much better, but at least there's only one active stitch at a time, and you can use your fingers to help when it gets stuck on itself. (That said, I like the finished cat bed so much that I'd totally make another one with the same yarn. It was worth it.)
Another strange thing about this yarn: It completely camouflages cat hair. Simon Cat—who, at 14.5-years-old is cranky and decidedly NOT gentle with his belongings—had been sleeping in the bed for weeks before I got around to photographing it, and I didn't even hit it with a vacuum before snapping a few pics.
Yarn info on Ravelry: Bernat Blanket Big Yarn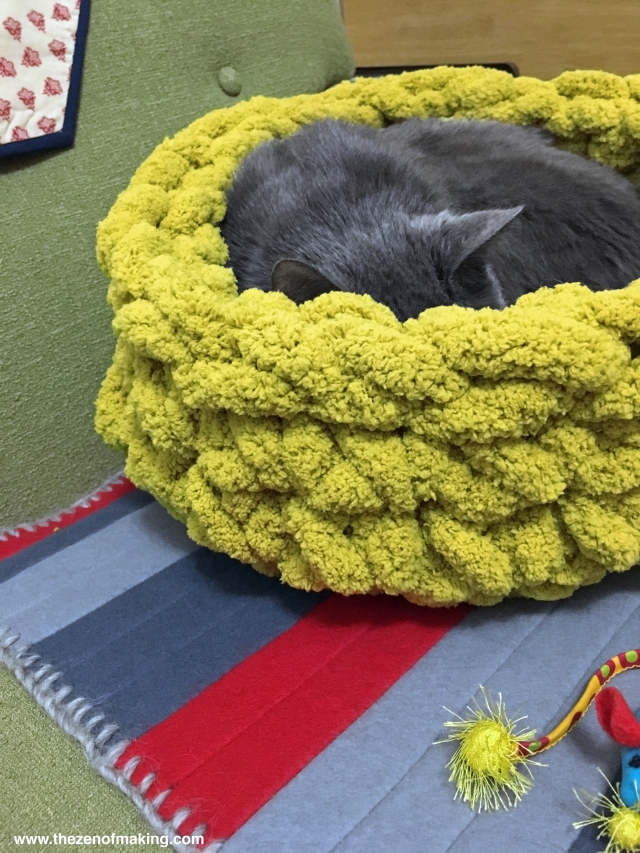 Project adjustments:
The Bernat Blanket Big yarn was so bulky that I only needed my cat bed to be 24 crochet stitches around.
So, if you're following my super bulky crocheted cat bed tutorial, work up to Round 3, then stop increasing. Instead of moving on to Round 4, crochet 3 more rounds of 24 stitches, then skip ahead to the instructions in Round 13.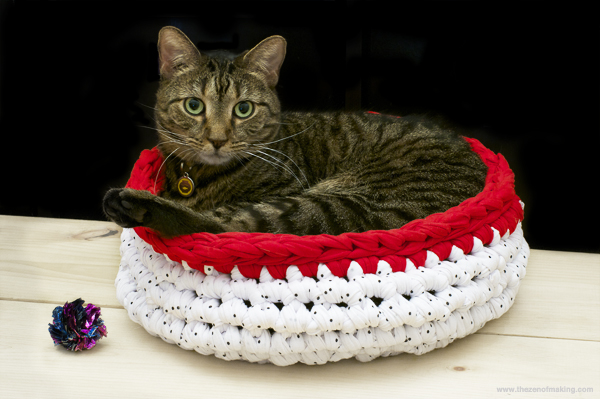 Quick personal note: Our sweet Pixel Cat (pictured in the original red and white crocheted cat bed above) passed away far too young from cancer a year ago this week. He was deeply loved, and is still very much missed. His cat bed—always his very favorite spot for napping in front of the radiator—was retired when he died.