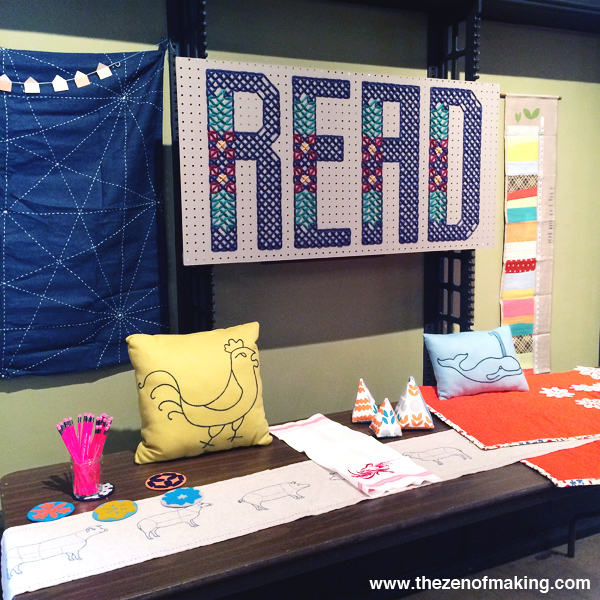 I am a woman who loves books. (You're shocked, I'm sure. I'll give you a moment to recover.) So, when my pal Jessica Pigza approached me about doing a project for BiblioCraft: The Modern Crafter's Guide to Using Library Resources to Jumpstart Creative Projects
[this is an affiliate link], the library-themed book that she was working on, the question wasn't if I would design something, it was what I would design. And, after much brainstorming, I decided that my feelings of library-related affection could only be adequately expressed by something really, really big. And thus, the READ cross-stitch wall panel was born!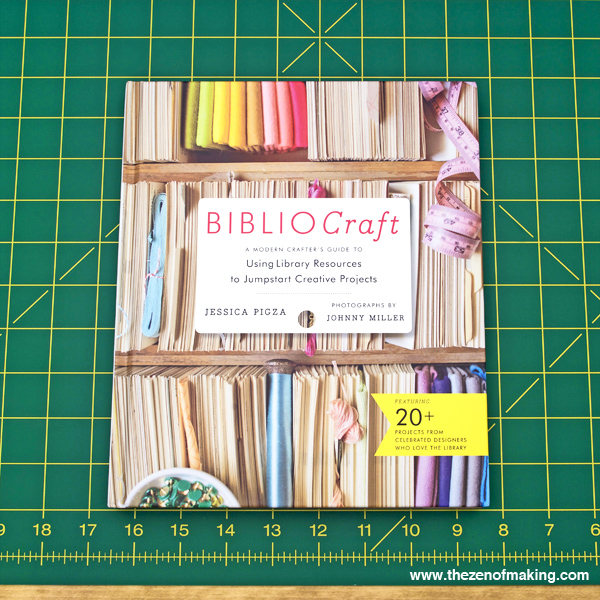 Before I tell you more about my project, I should probably let you get acquainted with the book. Here's how the publisher, STC Craft, describes BiblioCraft:
There is untold wealth in library collections, and, like every good librarian, Jessica Pigza loves to share. In BiblioCraft, Pigza hones her literary hunting-and-gathering skills to help creatives of all types, from DIY hobbyists to fine artists, develop projects based on library resources. In Part I, she explains how to take advantage of the riches libraries have to offer—both in person and online. In Part II, she presents 20+ projects inspired by library resources from a stellar designer cast, including STC Craft authors Natalie Chanin, Heather Ross, Liesl Gibson, and Gretchen Hirsch, and Design*Sponge founder Grace Bonney. Whatever the questmdash;historic watermarks transformed into pillows, Japanese family crests turned into coasters, or historic millinery instructions worked into floral fascinators—anyone can utilize library resources to bring their creative visions to life.
Are you excited? Because, I'm excited.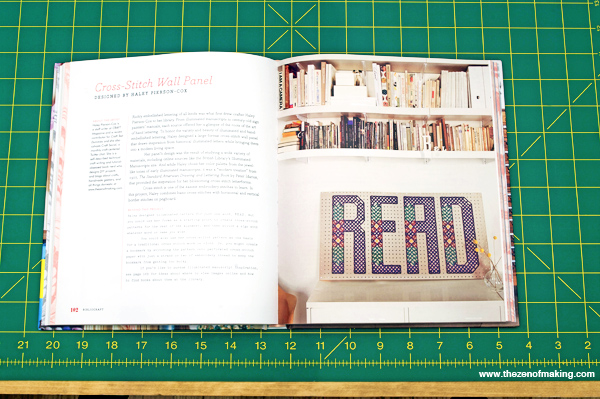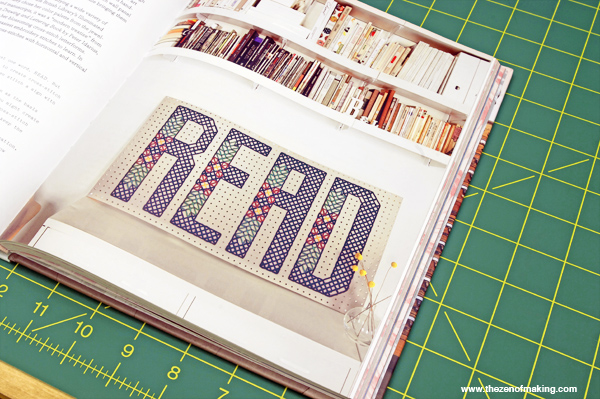 Hey, look! My work (and my name) is in a book! Man, that never, ever gets old.
About my READ Cross-Stitch Wall Panel:
I love a big, bold crafty statement, and this one's pretty huge—just ask Jessica's husband, who dragged it to several events for the book release. (Thank you!) Measuring in at a whopping 2′ x 4′, my READ wall panel was stitched on a sheet of pegboard using super-bulky yarn.
As you may have noticed, it most certainly isn't the kind of needlework that just blends nicely into the background.
About the letters:
In addition to the obvious library-friendly pro-reading message, the letters that I designed for this project were inspired by illuminated manuscripts from the Renaissance and Middle Ages that can be found in the rare book collections of libraries all over the world. (Many of which are, thank goodness, accessible through online library resources.)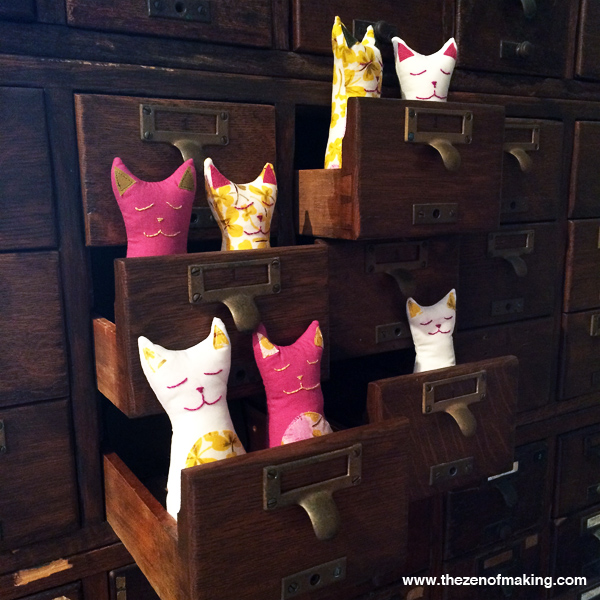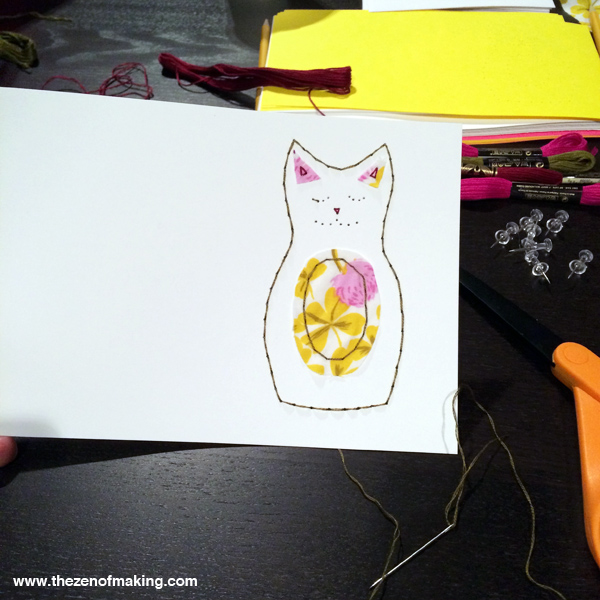 One perk to living in the same city as many authors and publishers: crafty book parties!
At the BiblioCraft book release party at Brooklyn Craft Company, we stitched these cute kitty cards, which were inspired by the adorable Kitten Pockets Dress—and Kittens! project that Heather Ross and Jessica Pigza designed for the book. (The plush version of the kittens is pictured above.)
In a similarly scaled-down fashion, I also led a workshop for stitching my READ design on paper at a Crafternoon event at the New York Public Library earlier this month. Alas, in all my excitement, I seem to have failed to take a photo of that project. (Thing is, I distinctly remember taking one. But, if I did, I guess my iPhone ate it.)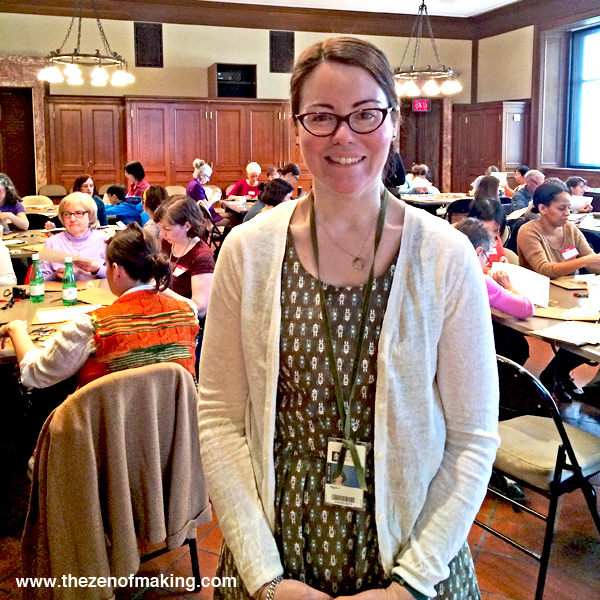 Last but not least, here's Jessica, the book's author, wearing her amazing robot dress at the NYPL event.
Thing I learned at my very first Crafternoon: Turns out, when you put two girls with dark hair, glasses, and cute handmade dresses together in the same room, we end up being kind of hard to tell apart. ;)
Maybe Kim and I might need to rethink our evil twin status and upgrade to triplets? (New to the blog? Check out the last photo in this post, and all will become clear.)
Feeling bookish? You can pick up a copy here:
Please note that the link provided below is an affiliate link, and I will be compensated if you choose to make a purchase after clicking through.