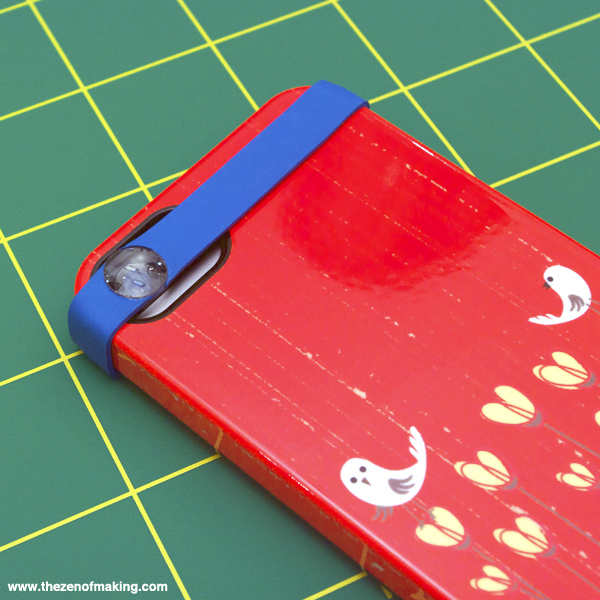 I've been eyeing macro lens options for my iPhone for a while (because, details!), but those fancy Dalek-looking lenses always seemed incredibly clunky and impractical. I was sure that I'd either lose mine immediately or never actually manage to have it on hand when I wanted to use it. But, when I saw the Easy-Macro cell phone macro lens
[this is an affiliate link], it looked like such a simple, elegant solution for snapping quick detail shots in the craft studio, that I just had to give it a try.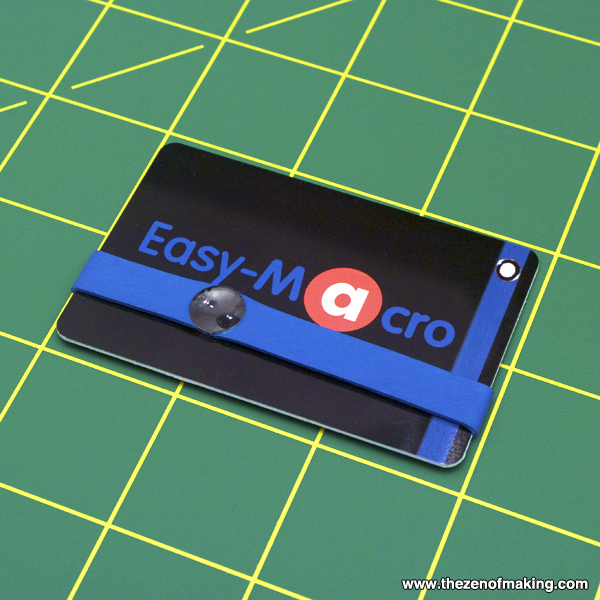 According to the Easy-Macro site:
Introducing the Easy-Macro Cameraphone Lens Cover

The Easy-Macro lens lets you take shockingly detailed closeup photos with your cameraphone. Unlike other macro lenses, Easy-Macro fits any model phone, with or without a case and stores in your wallet so you will always have it with you. There's nothing to stick on your phone and no spare parts to lose.

The Macro lens sports a 4X magnification while keeping your image as crystal clear as ever. The band fits on any model phone or tablet from the super-slim 4th Gen iPod Touch all the way up to your 10" iPad or Android tablet and everything in between. Easy-Macro comes with a credit card holder to easily store in your wallet when you're not taking photos. The lens also works with any and all camera apps for easy sharing with your friends (Instagram! Facebook! Flickr!). There is no additional software needed to use it.

Retail price: $15.00
Here's what I thought: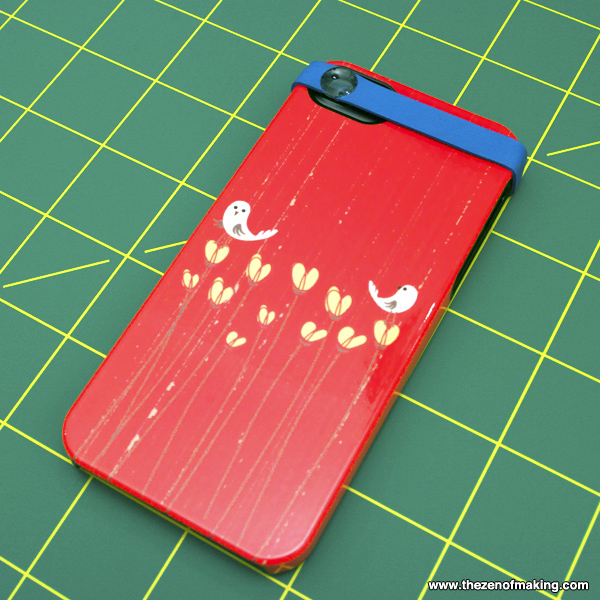 First, I must confess that it took me an utterly embarrassing amount of time to figure out just exactly how close I really needed to be to an object before the lens could focus. For about the first 20 minutes, I sincerely thought that my lens was defective. But, turns out, you just need to be really close to something to take a really up-close shot. (Imagine that.) So, if you've reached this post by Googling "my macro lens is defective," you probably just need to get a whole lot closer to the thing that you're trying to photograph. Like, almost touching.
On a related note: I have a newfound respect for the friends on Instagram who have been posting macro shots of bees and spiders in their gardens all summer.
Also: You people are insane.
What you should know going in:
The Easy-Macro lens is mounted on a rubber band, giving it the ability to stretch to fit a variety of smartphones. This one-size design certainly makes it versatile, but it's not perfect. I have the new iPhone 5s, which is slimmer and taller than the iPhones that were out when the Easy-Macro was designed. I find that, when my phone isn't in a case, the rubber band is almost too loose to hold the lens in place.
Related to the sizing note above, the lens works just as well when my phone is in a case as it does when it isn't. Bonus: Using the Easy-Macro when my phone is in a case also solves my almost-too-big rubber band issue.
The Easy-Macro lens is easy to put on and easy to remove, and it doesn't make my phone feel bulky or awkward when I'm using it.
The rubber band covers the iPhone flash. (This is fine, since the Easy-Macro isn't supposed to be used with a flash anyway.)
Though it takes lovely photos, the Easy-Macro isn't a top-tier lens, and, at $15, it isn't meant to be one. Keep in mind that the lens is acrylic, and it can scratch.
The Easy-Macro lens comes on a credit card-sized holder, so it can be stored in your wallet and carried with you.
Got a tablet? The Easy-Macro FAQ says that the rubber band will stretch to fit tablets up to 10". I like my lens so much that I'm afraid to try it with my iPad Mini, but if it works for you, definitely let me know!
A quick note on proper focus:
To get a crisp focus, you'll need to adjust the focal length manually. Basically, this means that you're going to have to move your phone closer to or away from your subject until the image comes into sharp focus, then you'll have to hold it there while you snap the photo. It's not hard, but it does take a bit of practice.
Here are a few of the photos that I've taken with the Easy-Macro around the craft studio: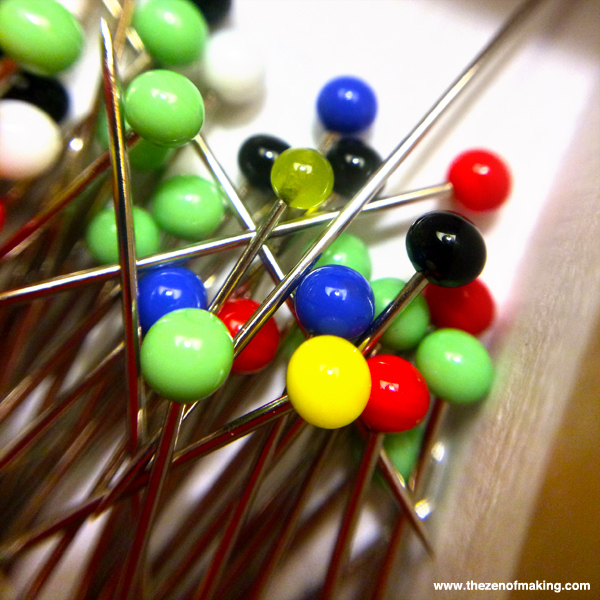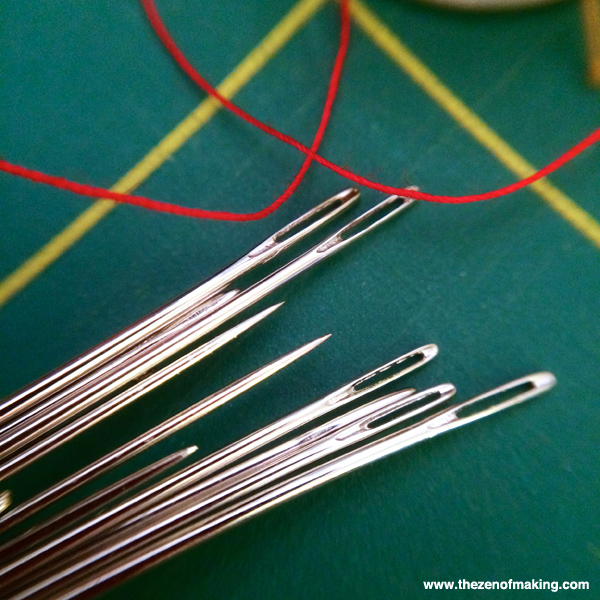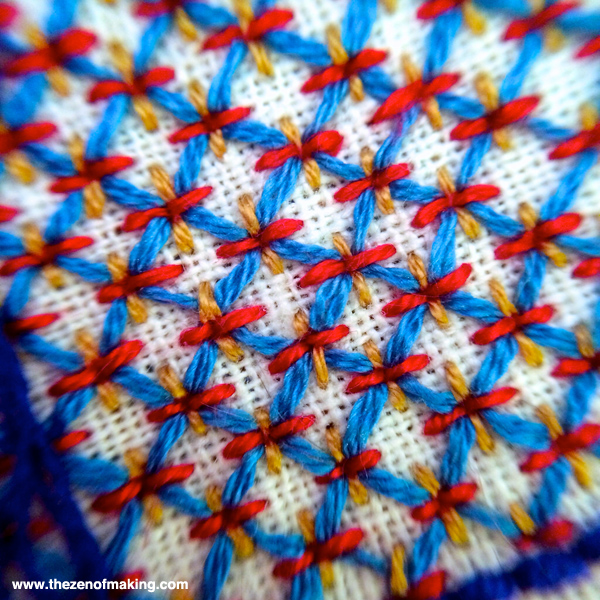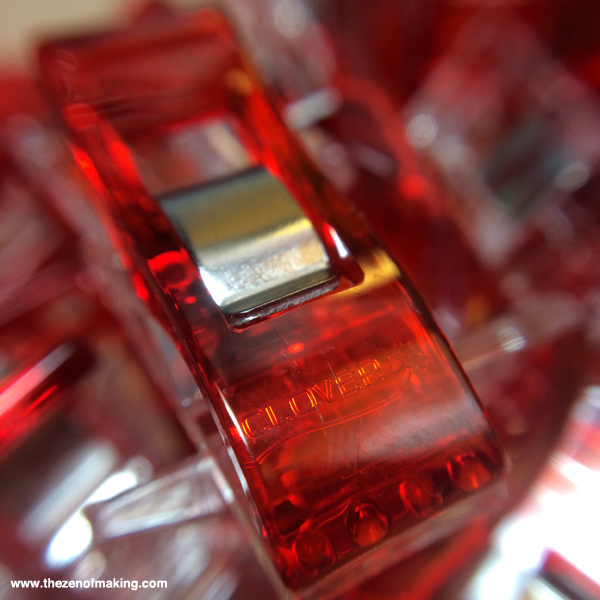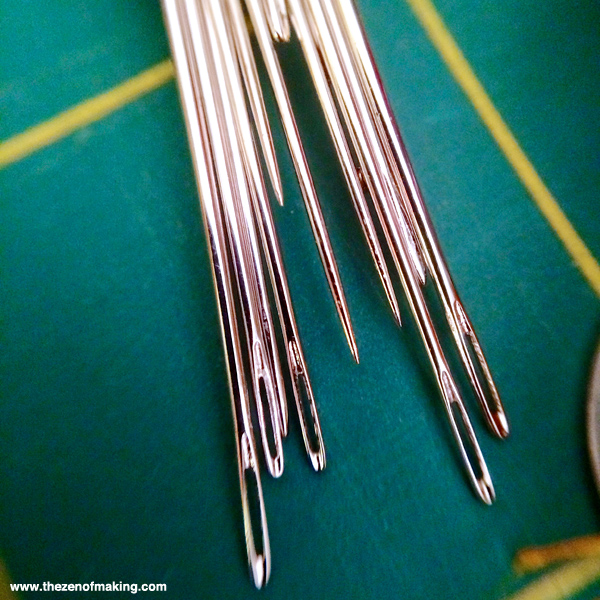 Overall impressions: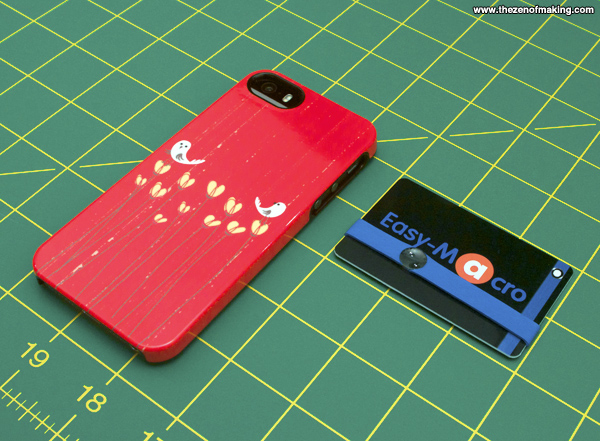 I think the Easy-Macro lens is fantastic, and I'm so glad that I finally bought one. With a steady hand and a little patience, it takes beautiful, clean, and sharp macro shots, and it's a wonderful tool to have around my craft studio, where detail photos can make all the difference.
In love? You can buy one here:
Please note that the link provided below is an affiliate link, and I will be compensated if you choose to make a purchase after clicking through.
Have you tried the Easy-Macro (or another smartphone macro lens)? I'd love to hear what you think!