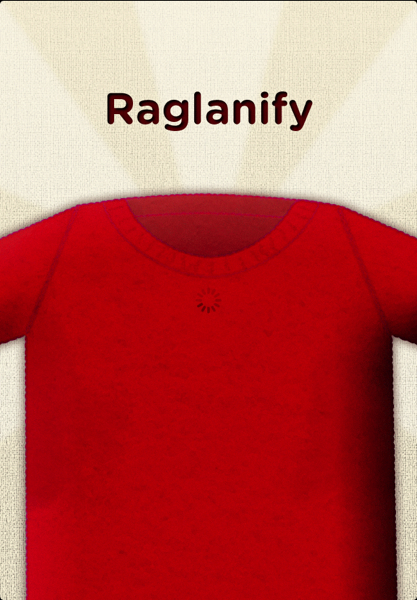 Because my body is, shall we say, challenging where proportions are concerned—essentially, the only thing standing between me and the kids' pattern section is a pair of stubbornly grownup-sized boobs—I'm a big fan of knitting projects that are based on formulas and recipes. (You know, basic sock, hat, etc. patterns that can easily be scaled to fit different sizes if you follow certain mathematical rules.) They're a wonderful way to achieve a custom fit—especially when your measurements are decidedly not standard—and they're also great for wrapping your mind around how individual adjustments translate into shapes. Recipes are my absolute favorite way to knit! So, when I stumbled upon the Raglanify sweater knitting app while catching up on my RSS feed, my inner garment construction geek crowed with delight, then I immediately forked over my $0.99 for the iPhone/iPad app. Turns out, it's pretty neat!
A few disclaimers to appease the Knitting Police:
After tweeting excitedly about this app last week, I immediately learned that there is no faster way to work talented knitters into a frenzy than to suggest that a custom raglan sweater pattern might solve the petite-girl-with-big-boobs sweater fitting problem. And, while I still maintain that building sufficient ease into a sweater pattern that has the correct measurements and proportions for my body would likely produce a rather comfortable and nice-looking sweater, those irritated ladies did have a point: a handmade raglan sweater will never turn me (or you) into a Marilyn Monroe-level vixen. (That's okay—it wasn't really the look I was going for anyway.) Truth be told, raglan sweaters are simple and kind of boxy. And, while it's possible for them to look equally great on you, your kid brother, the fireman down the street, and that grandma who's always crocheting doilies in line at the bank, the fit can be decidedly unflattering on some body shapes. Case in point: If you're a shapely lady looking for a pattern that'll hug your curves in all the right places, a raglan sweater is probably not the answer. Same goes for dudes with a little extra around the middle and no desire to draw attention to it. Alas, them's the facts.
Now, on to the app: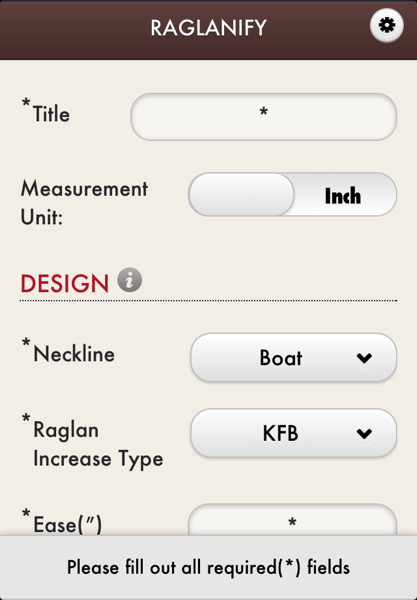 Here's the Raglanify opening screen. Big points awarded for being able to choose between centimeters and inches for measurements and having the option to select either US or metric needle sizes.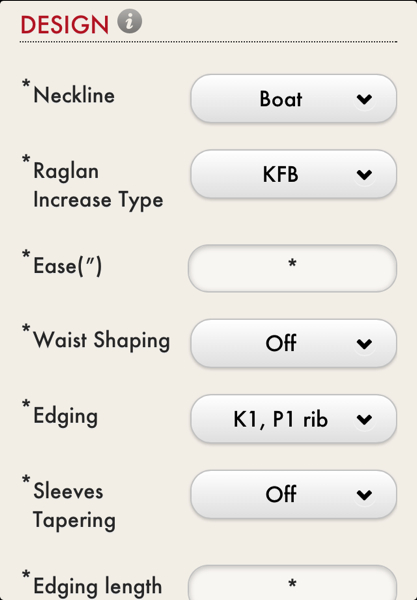 As we've already established, the style of the sweater is pretty basic, but there are a few subtle design choices that you can make to customize the look, including the shape of the neckline, waist shaping, and sleeve tapering.
Once you've made your design selections, the rest of the app is devoted to yarn and fit. Among other things, this means personalized sleeve lengths, waist heights, and arm openings for all! (Whoo!) It also means that you can finally use up that awesome worsted weight/lace weight/chunky yarn that's been taking up room in your stash since Buffy was still dating Angel. (Everybody wins!)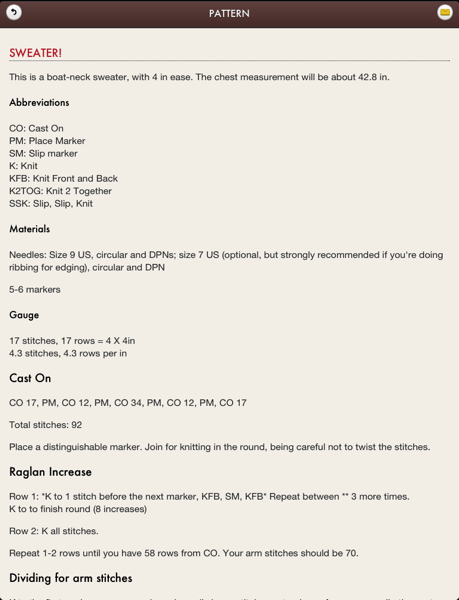 After you've made your design choices, entered your measurements, and locked in the gauge, the app magically spits out a custom sweater pattern. (Okay, it's not really magic. It's math. But, it's magical math!) Then, when you're ready to start knitting, you can follow the pattern on your phone or tablet, or you can hit the handy email button at the top of the screen to send a copy to yourself for printing/future reference.
Note: If something seems off in the pattern shot above, have no fear! I wanted to show you an example, but I didn't have yarn picked out or a swatch prepared when I was writing the post. I definitely fudged a few numbers.
So, that's the Raglanify app. Pretty great, right?
I've got some big sweater plans in the works for this fall—I'll let you know how it goes!
** The first three app screenshots are from my iPhone and the pattern screenshot is from my iPad. I'm told that the app is also available on Android.