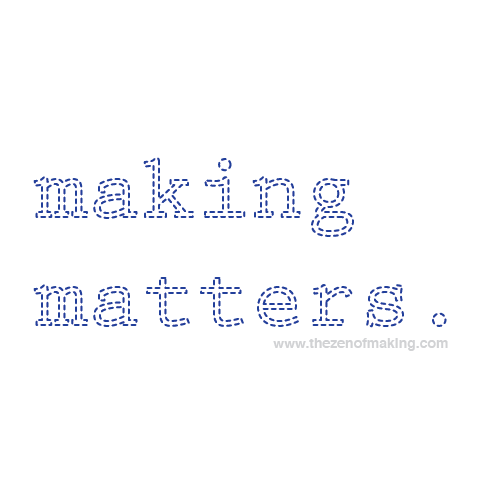 It all started with a couple of particularly obnoxious photo-and-quote posts. You know the kind: the vintage-y craft-related images with sassy phrases written across them that end up plastered all over Facebook? Yeah, those.
Now, truth be told, I'm not a big fan of photo-and-quote posts under the best of circumstances—the grammar is usually terrible and the images are often used without giving credit to the source—but, much like political rants and baby-related over-sharing, I generally have the good sense to ignore them. Tons of people love sharing that sort of thing, and if it makes them happy, I think they should keep doing it. (I mean, we all know that I post way too many cat photos every day. Far be it for me to judge!)
The problem is, these two posts—a run-of-the-mill tee-hee-I'm-being-naughty-and-crafting-instead-of-doing-housework-please-don't-tell-my-husband post and a tee-hee-girls-can't-do-math-better-buy-lots-of-fabric post—felt different than the usual FB fodder. Maybe it was because they showed up back-to-back in my newsfeed. Maybe reading Emily Matchar's Homeward Bound had me paying more attention to feminist issues. Or maybe I just needed more coffee. Whatever the reason, on that otherwise uneventful Wednesday morning, the fact that smart, capable women were sharing these posts with other smart, capable women stopped me dead in my tracks.
First: Wait. What? Y'all know that sewing/knitting/crochet/quilting/etc. is actually math, and that grown-ass women are capable of making their own choices (responsible ones, even!), right?
Of course you do. I mean, I already mentioned that you gals were smart.
Second: Dude, are these really the messages that we want to be sending our daughters (and, for that matter, our sons) when we talk about women and making?
No, I didn't think so.
Turns out, the longer I make my living as a professional craft writer (read: someone who does traditional women's work as a job), the less patience I have for fellow women perpetuating harmful gender-based stereotypes under the guise of talking about their chosen crafts.
I have an idea: How about we stop telling our girls that they can't do math and start talking about the practical, often difficult geometry that sewers and fashion designers do every day like it's no big deal? Or, instead of giggling about how our husbands are going to kill us for going to the craft store again, why don't we focus on the fact women all over the world are turning those same supplies into viable handmade businesses? And can we please start pointing out that, in addition to developing skills that are useful in their own right, making and crafting promote fine motor skills and problem solving abilities that translate nicely into fields like engineering, electronics, and scientific research? (Gasp!)
If you ask me, it's high time we stop devaluing crafts. Making isn't frivolous; it's how we make discoveries and get things done!
Now that we've gotten that sorted out, let's start respecting both our skills and each other.