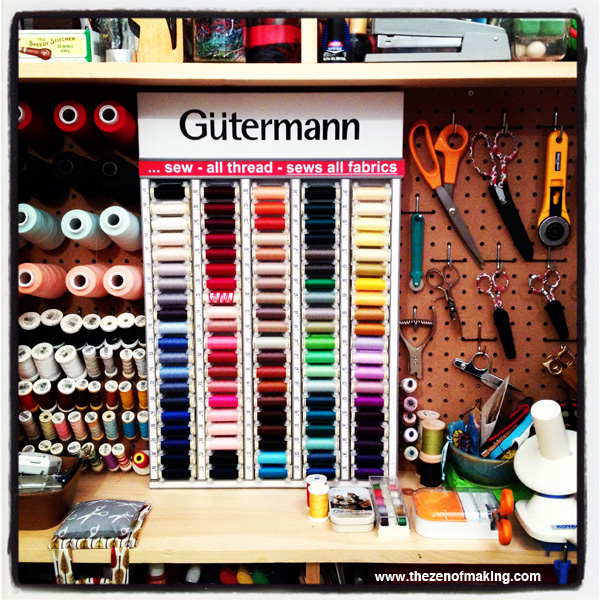 Warm weather always inspires me to de-clutter and get organized, and this spring, my craft studio is at the top of my to-clean list. So, this week, I've been digging through my stash, removing duplicates, and finally getting around to those organization projects that I've been neglecting for months, like installing my gorgeous new Gütermann In-Home Thread Cabinet
(this is an affiliate link)!
Now, I know what you're thinking: If I've already got a perfectly good pegboard system, why in the world do I need a thread cabinet too? Allow me to explain:
By nature, I'm a pretty organized woman, but I'm also a busy creative professional. And, despite my best efforts to the contrary, I amass quite a bit of crafty clutter as I move from project to project. (Sound familiar?) So, to prevent the teetering stacks of in-progress projects, paperwork, and supplies that always threaten to take over my already too small workspace, I employ one simple strategy: I keep tools and supplies neat and within easy reach, and I always put them back where they belong. (Simple? Yes. Easier said than done? Definitely.)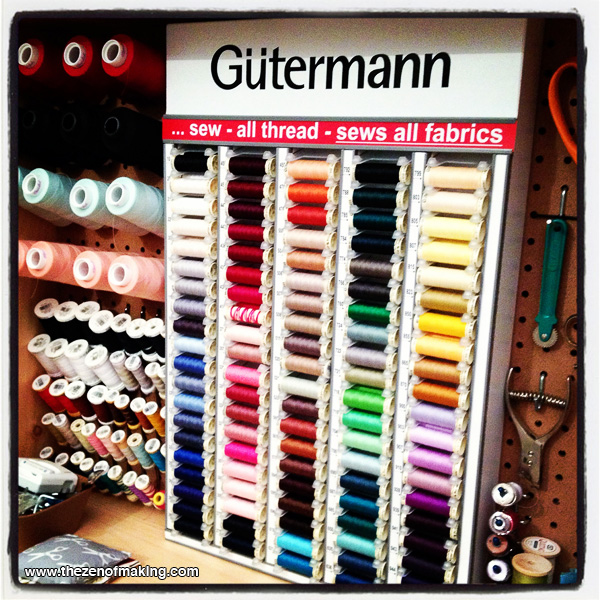 For me, the best incentive for keeping everything in its place is creating storage solutions that are as pretty as they are functional. I find that, when there's beauty and logic to my organization, it's easier to remember where things go, and I'm much more likely to put them away. That's where my Gütermann In-Home Thread Cabinet comes in. Unlike my old pegboard system where each additional color meant adding a new peg (and rearranging all of the other thread pegs if I wanted to keep them in color order), my new thread cabinet has a specific, well-labeled place for each individual color. A glance at the color number on the top tells me where any given spool belongs, and all I have to do is pop it into place. It's a beautiful way to display thread, and it helps me work more efficiently: a quick look at the rack on my way to the fabric store lets me know if I'm running low on a favorite color, which keeps me from running out of thread in the middle of a project or wasting money buying duplicate spools that I don't really need. (Plus, if I'm about to start a big project, each color slot can hold multiple spools of thread.) With my thread cabinet, it's actually much easier to be organized than not, which is definitely key for keeping my studio in working order!
Basically, all of this is just a long way of saying that I adore my Gütermann In-Home Thread Cabinet. It makes me want to dance and sing. ♥
---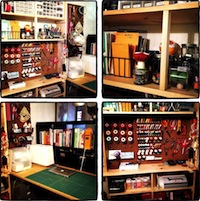 Want more small space organization ideas?
Check out my Small Space Studio Tour to see how I pack big creativity into a teeny tiny space.
I've been promising you guys a peek at my crafting studio for a while now, and I'm finally ready to give you the tour…
---
Please note that the links provided below are affiliate links, and I will be compensated if you choose to make a purchase after clicking through.
In the market for a Gütermann In-Home Thread Cabinet of your own? You can pick one up here:
What's your favorite tip for keeping your crafting space organized?