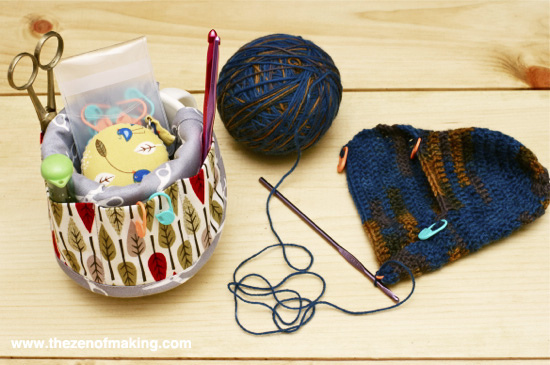 Remember the Kwik Sew cup organizer sewing pattern that I reviewed last week? Turns out, it's the perfect companion for crochet projects! Just slide your hooks, scissors, and notions into the outside pockets and load the center with your measuring tape and stitch markers, and you've got a crochet organizer that you can take along with you—no matter where you're working.
More ways to keep your crochet supplies organized:
If you're using a large enough mug, drop a center pull ball of yarn into the cup to keep it from tangling while you work.
For quick reference, use a small binder clip to attach your pattern to one of the outside pockets.
Fill an outside pocket with stitch markers for easy access.
Store your pattern swatch in the center to ensure that you stay on track.
Keep a highlighter handy in an outside pocket to mark off the lines in your pattern.
Not bad for a coffee mug, eh?
Want to make your own crochet organizer? Pick up a Kwik Sew K3886 Pouch with Pincushion and Cup Organizer
sewing pattern!
**Please note that the link provided above is an affiliate link, and I will be compensated if you choose to make a purchase after clicking through.**