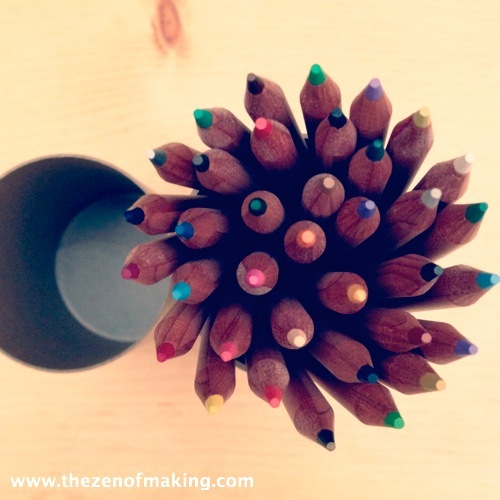 I'm a professional craft writer. And, because I generate all of my income through craft-related pursuits, fair compensation is a subject that's very near and dear to my heart.
Every day, I receive emails from well-meaning companies who want to work with me on a giveaway, partner with me on a tutorial, or "pick my brain" about about a product/tool/book. The problem is, many of these companies aren't prepared to compensate me for the work that they're asking me to do, and are surprised when I broach the subject during our correspondence. This is bad for two reasons: 1. On a personal level, crafting is my day job, and I can't afford to provide professional-quality work for free, and 2. It speaks to the steadily growing trend of companies asking bloggers to provide free publicity services while, at the same time, neglecting to place any value on the time and work that those bloggers are putting into producing the content. So, while I'm excited to see my favorite brands beginning to embrace more modern, web-based marketing plans, many companies still have a lot to learn when it comes to working with bloggers in a way that benefits both parties equally.
Wait. What is this "fair compensation" nonsense, anyway?
First off, "fair compensation" doesn't mean the same thing to everyone. For some crafters, fair compensation means getting paid. For others, it means receiving product in exchange for a review or project. Some may even choose to barter content for things like ad space or access to an audience. So, for the purposes of this post, fair compensation means this: the blogger receives something in exchange for her work that—in her opinion—fairly matches the value of her efforts.
I understand why fair compensation is important, but how do I bring it up with a company?
This is where I can help! Below, I've included a simple fair compensation email template to get the conversation started. You can customize it to fit your needs—I bracketed off the sections that you're most likely to change—and you can add or remove details as you see fit. This is the same letter that I use when I'm talking to companies, and I think it explains the need for fair compensation in a way that's both firm and friendly.

Dear [contact from company],

Thanks for reaching out to me about [super-aweseome project]!

Per our earlier conversation, I would love to work with you on a [giveaway/tutorial/review]. But, before I take on the time commitment required for such a project, I would like to discuss the compensation that will be provided in exchange for my work.

As you know, [craft] blogs are a powerful way to spread the word about new and exciting products. And, when working with a blogger, companies expect access to the blogger's audience (not only through the initial blog post, but also through outreach across social media platforms), high quality original content, and hours of promotional and administrative work both before and after the [post goes live/prize is awarded]. Unfortunately, for [professional] craft writers who regularly walk a fine line between profitability and loss on any given project, overseeing a [giveaway in a way that is engaging, fair, and legally above board] often requires significantly more time and money than the short-term bump in traffic might return in advertising revenues. Because of this, fair compensation—be it [monetarily or in product]—is absolutely essential for the sustainability of the kind of high quality content that both companies and readers have come to expect.

When I partner with companies like yours, I generally charge [$$] for [reviews/tutorials/giveaways], and I believe that [dollar amount, specific product, ad space, etc.] would be an appropriate level of compensation for this project. (If needed, we can discuss alternative methods of exchange.) If you would like to see a sample of my work, here is a link to my most recent [tutorial/review/giveaway] on [Craftzine.com].

I look forward to hearing from you soon, and hope that we can arrive at an agreement that meets both of our needs.

Thanks and best,
[Haley Pierson-Cox]
Please note: I have provided this email template as a public service. I make no guarantee that using it will yield a positive outcome.
If you'd like to read more about fair compensation and what it means for the crafting community, my friend Diane facilitated a valuable conversation on the subject over on CraftyPod: Should designers be paid for their services? (An interesting debate)
Edit: Jenny over at Craft Test Dummies has also contributed to the discussion here, with a focus on product reviews.