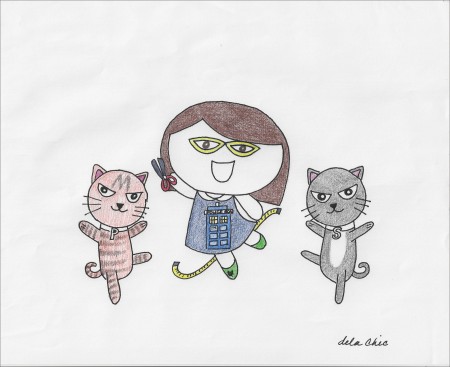 I've got something fun to share with you guys tomorrow for Earth Day, so I moved my usual Sunday snapshot to Saturday this week!
Inspired by a cartoon on a box of soy milk (we were a little bit obsessed), my crafty pal Christine from Delachic drew this awesome caricature of me and the cats, complete with a TARDIS dress and gold cat eye glasses! Isn't it perfect?
If you don't already know Christine, you should definitely check her out. She's a talented multi-crafter, and her blog is filled with beautiful colors and textures. When she's not blogging, she also makes gorgeous jewelry and adorable crocheted hats, ornaments, and softies, which she sells in her Etsy shop. (I'm equally in love with her owl ornaments and wood/crochet necklaces!)
Does her name sound familiar? You probably saw her amazing paper Titanic derby hat this week when I featured it on CRAFT. It actually lights up!
Thanks for the drawing, Christine! You made my week!