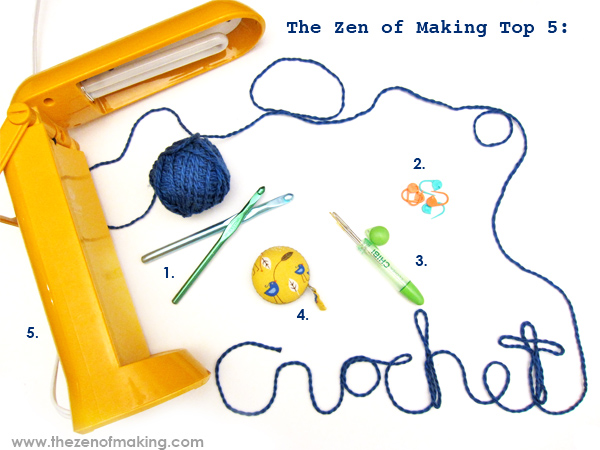 It might come as a shock to my more delicate readers, but I'm a loud and proud hooker! Here are my top five tools of the trade:
Please note that the links to supplies and tools that are provided below are affiliate links, and I will be compensated if you choose to make a purchase after clicking through.
1. Susan Bates Silvalume (Aluminum) Crochet Hooks

Crochet hooks, like knitting needles, are largely a matter of personal preference. But, if you ask me, it doesn't get much better than aluminum Susan Bates crochet hooks. They're light, they're comfortable in the hand and on the thumb, they have a gently pointed head that allows them to slip under stitches easily, and they have a sharp, deep hook that holds onto even the most slippery yarn. The best part: they're widely available AND they're inexpensive.
2. Clover Locking Stitch Markers

Though they're often seen primarily as a knitting supply, I use stitch markers for almost every project. When I'm crocheting in the round—especially when using lace-weight threads or smaller yarns—I always mark the first stitch so I know where to join the round without having to pay too much attention as I work. I also use them to mark the first stitch in each row on straight pieces, which keeps me from mistaking the turning chain for a stitch when I'm tired or in a hurry. (If you don't have stitch markers on hand, paper clips or safety pins will work in a pinch!)
3. Clover CHIBI Darning Needle Set

If you're going to finish a crochet project, then you're going to need a darning needle set. I use this 3 needle set from Clover, which comes with a small, a medium, and a large darning needle, plus a small carrying case. Because I can toss the whole set into my project bag without worrying about losing a needle, I always have the right size on hand when it's time to weave in ends.
4. Retractable Measuring Tape

I always keep a mini retractable measuring tape close by, because they're perfect for gauging, sizing, and making sure that my projects end up the right shape. I got mine as a birthday gift from my knit-tastic BFF (she got it from our LYS), but you can find one—fancy or not-so-fancy—at just about any craft store.
5. OttLite Folding Task Lamp

It may be a little bit pricey, but, thanks to this crafting detail lamp, I can crochet black lace with itty-bitty crochet thread. (No, seriously.) If that's not a ringing endorsement, then I don't know what is! All kidding aside, a detail lamp makes stitches visible in a way that regular lighting simply can't, so it makes my projects go faster and keeps me from straining my eyes, no matter what size yarn I'm using.
Okay, you fabulous hookers, what amazing crochet tools did I miss? Comment below to add your favorites to the list!