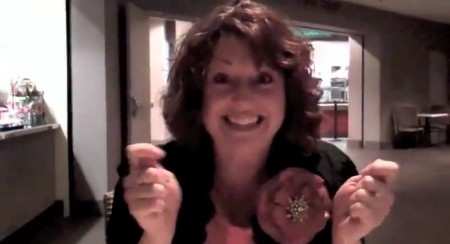 If you've ever been to a trade show, you know how loopy things can get toward the end: you're tired, you've met a million awesome people, and you haven't slept in days. So, on the last day of CHA, when the show lights had been turned down and the closing announcements had been made, things got a little, well, weird.
During a discussion of creepy/gross-tastic—yet somehow still cool—crafts, my pal Jenny from Craft Test Dummies enthusiastically declared her love of bug art. Now, we may have all been a little post-show slaphappy, but I can confirm without question that her excitement is 100% real. (I, on the other hand, am a big fan of Victorian mourning hair wreaths and brooches.) I'm pretty sure that no crafts are too strange for Team CTD, and that's just the way I like it!
What are your favorite offbeat crafts?
Upping my game in DIY videos is one of my goals for 2012. Subscribe to my YouTube channel to see what new forms of crafty hijinks I get up to next!