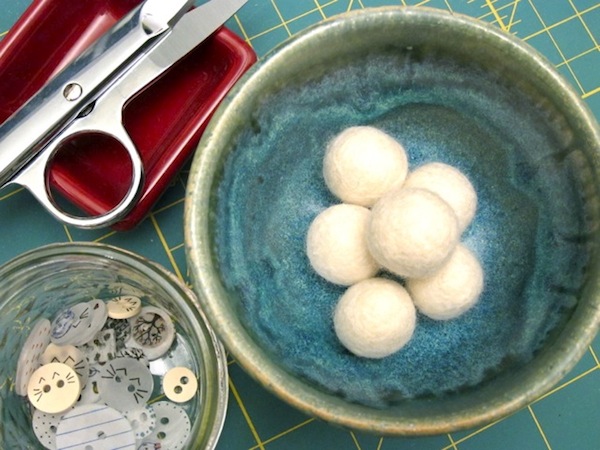 For a recent project, I needed a whole pile of fairly uniform felted wool balls. I thought it would be easy enough to make my own—I'd seen quite a few tutorials kicking around the crafty blogosphere—but no matter what method I tried, I always seemed to end up with the same ugly ridges, cracks and creases. In my frustration, I started experimenting with different combinations of felting techniques, and finally stumbled upon the answer for creating perfect round felted wool balls, with no washing machine or wool yarn core required!
Supplies:
* Wool roving, dyed or natural
* Detergent, mild and unscented
* Hot water
Tools:
* Needle felting needles (I used a Clover needle felting tool.)
* Needle felting mat or foam pad (I used a Clover needle felting mat.)
* Large bowl or washtub
* Towel
Step 1
Gather a large handful of wool roving, fluffing and separating the fibers.
Step 2
Wrap the roving into a tight ball. (There will be some flyaway fiber at the beginning of the process, so don't expect immediate perfection!)
This ball will be about twice the size of your finished felted ball.
Step 3
Place the balled fiber onto the felting surface. With a felting tool or felting needle, begin to intertwine the fibers and fuse them together by poking the needle into the center of the ball.
Step 4
Continue working your way around the ball, smoothing any loose fibers down and poking them into place. In areas where layers of roving overlap, take special care to poke the layers together until the surface is smooth and uniform, and no evidence of the overlap remains. (This will prevent ridges and gaps from forming in your finished felted balls.)
When your needle felted ball is round and has a mostly smooth surface, you're ready to move on to water felting.
Step 6
Add a few drops of gentle detergent to the bottom of a large bowl, then fill it with the hottest water that your hands can safely stand. Dip a needle felted ball into the water and begin to roll it lightly between your palms in a circular motion. As the fibers fuse, periodically return the ball to the water bowl, then continue rolling, increasing the pressure of your hands slightly as the ball becomes firmer. The rolling process will take at least one to two minutes per felted ball.
Note: When you first start rolling, resist the urge to press hard—this could create creases on the surface of your felted ball.
Step 7
When the surface of your ball is completely smooth and uniform, the felting process is complete. Squeeze any water out of the ball, then press the ball in a towel. Once excess water is removed, roll the ball in your hands one last time to round it out, then allow it to dry for at least 12 hours before using.