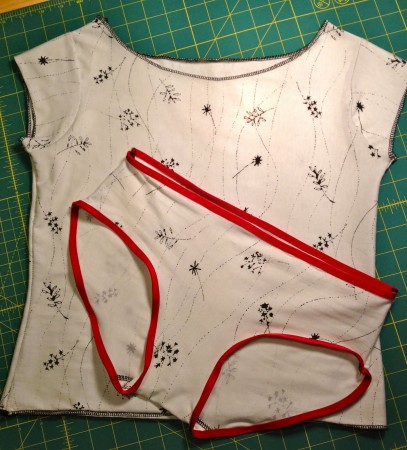 Last night, I took a break from my holiday gift making frenzy to sew a little something for myself. I've wanted to make a replacement for my favorite well-loved (read: raggedy) t-shirt for a while—it's the most comfy thing I own, but, of course, it's no longer available in stores—and with flights coming up next week, I finally went for it. Then, just for fun, I made a matching pair of underpants too!
I'll show you how to duplicate your own favorite t-shirt in an upcoming tutorial. (You won't even have to take it apart!) But, for now, why don't you make yourself some fancy underwear? I made mine using the same basic method that's in my T-shirt to Underpants Upcycling Tutorial, but I stitched fold-over elastic around the leg holes and waistband before sewing the sides together.
I absolutely adore this fabric, so I may have to expand the collection to include some drawstring pants, shorts, and a nightgown. That would just about cover my lounging and sleepwear needs for all seasons, don't you think?