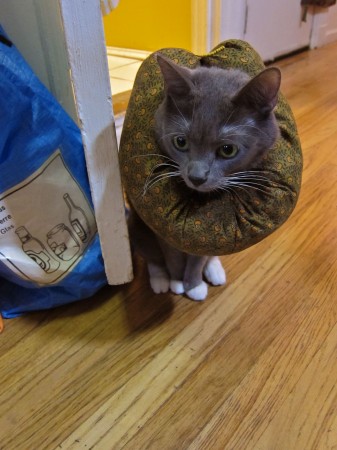 My adorable Simon-cat has a not-so-adorable problem. Much like his cat-mom, he suffers from some pretty serious OCD.
Like most cats, Simon is a thorough cleaner. The problem is, if he comes across any sort of scratch or skin irritation—as critters that come equipped with sharp claws are wont to do—he'll obsessively clean the area until he's created a painful sore, which he'll then want to clean some more. This scenario always leads to the same inevitable conclusion: a trip to the vet and several weeks in the Cone of Shame. This is not a happy outcome for anyone involved.
So, when a spot that I'd been watching crossed the line yesterday, I dug out the cone and watched sadly as my poor little kitty sulked around and bumped into things. On a whim, I started googling around for alternatives to Elizabethan collars, thinking that maybe I could put my DIY skills to work on something that would make Simon more comfortable. When I came across this ProCollar Protective Collar, which promised to restrict movement while leaving vision more or less unrestricted, the gears in my head started turning.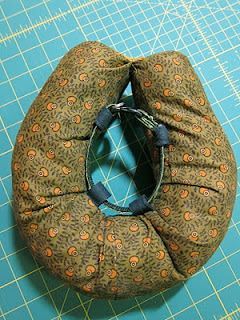 I went to work on designing a version that would hook right to Simon's collar, giving it the best chance of actually staying in place. The process was pretty quick and dirty—I wanted to get Simon out of that cone ASAP—but it's basically comprised of a 20″ fabric tube with tabs sewn into the seams. To keep it both fluffy and light, I reinforced all of the stitching, then stuffed the tube with plastic shopping bags before closing the final seam. Once fitted, I stitched the ends together to form a closed loop, then threaded the collar through the tabs.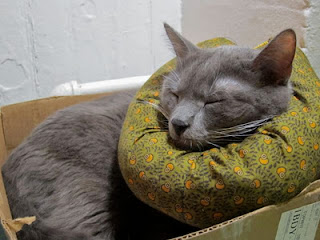 It may not be the most elegant solution, but it works. Just like the cone, the padded collar doesn't allow belly access, so Simon can't lick the irritated spot. But, unlike the cone, he can still turn his head and see where he's walking. With his peripheral vision mostly unobscured, he doesn't feel like something is always about to sneak up on him, so he's much calmer and more relaxed than with a traditional E-collar. He still walks a little funny and bumps into things occasionally, but instead of a having a full on pimp walk, it's more like a low-key stagger step. (I was tempted to post a video, but I'll spare him the harassment.)
A quick note on Simon: Simon is a 9-year-old rescue cat who has always had anxiety and stress issues (and whom I love more than just about anyone else in the world). We work very closely with our vet to ensure that he has the right diet and home environment to keep him as relaxed and healthy as possible. Simon's obsessive tendencies are mostly well-controlled. While the over-grooming issue isn't a frequent occurrence, it is one that must be dealt with when it arrises.