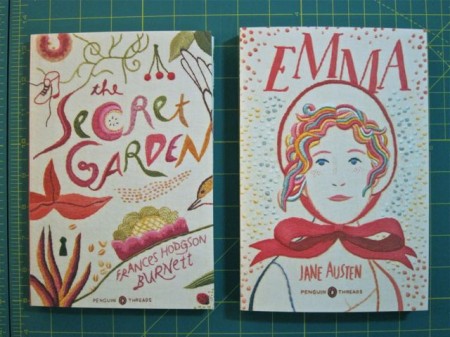 If you're a regular reader of the crafty internet, you've no doubt seen these beautifully embroidered book covers as they've worked their way through the big craft blogs. Last night, I was lucky enough to attend the Penguin Threads launch party at Purl Soho, where I got to meet illustrator and stitcher Jillian Tamaki and take an up-close look at the original embroidery. Not only did I have a great time hanging out with other needlework geeks and book nerds (say, The Feisty Redhead), I also came home with two lovely new additions to my book shelf! (Doesn't the detail work just blow your mind?)
In case the front covers don't have your heart beating quite fast enough, you should also know that back of each book cover is printed with the back view of the original embroidery piece. Printing on the backs of book covers is pretty unusual as it is, but spending the money to print full color images of both sides of the original works of art certainly shows a deep respect for the skill and craftsmanship that went into creating the covers for these editions.
The original artwork:
The Secret Garden


(This one's a little blurry. I was in the process of making friends with all of the other girls with dark hair and glasses, so perfect pictures just weren't the top priority of the moment!)
To wrap things up, the stitcher herself signed one of my books and drew me a picture. Even with a giant line filled with other folks to meet, she was sweet, kind, and a real pleasure to talk to. (Aren't crafters the best?!)
As a bonus, when I got home, I discovered that Purl Soho had hidden this cute little embroidery kit at the bottom of my bag! Huzzah!
A little extra book gossip from the event: I hear tell that more books will be added to the Penguin Threads collection in the future, including The Wonderful Wizard of Oz. Fingers crossed for glitter floss on that one!