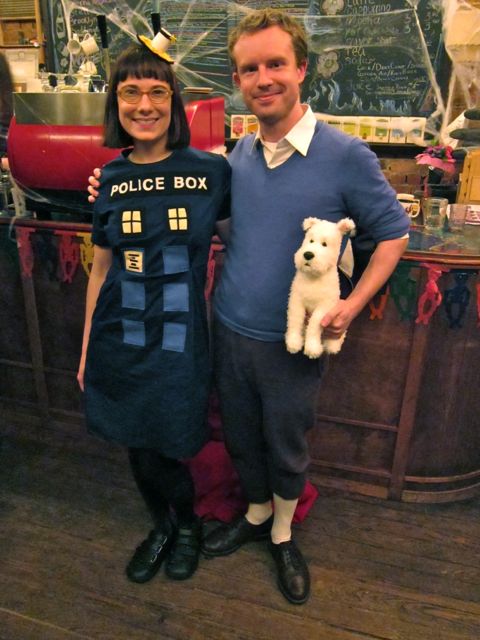 The TARDIS and Tin Tin
As you may have gathered from my iPhone case cross-stitch pattern, I'm kind of into the TARDIS right now. So, after my first Doctor Who-related costume ideas fell flat—I was going to be the Doctor a la Davit Tennant, but, alas, couldn't find a boys brown suit—I decided to continue showing my TARDIS love by making a police box dress, complete with a light-up LED fascinator.
For the record, I originally planned to make the dress snap down the front (with a second layer painted like the inside of the TARDIS underneath) so I could rip it open and declare "It's bigger on the inside!" to unsuspecting revelers. But, frankly, I ran out of time. That's what happens when you work on too many Doctor Who projects at once.
The dress is stretch cotton, and the details are eco felt appliques. Sexy might be the TARDIS' name (seriously, it is), but I tried to avoid skank-ifying the costume as much as possible. Sadly, boob-level windows could not be avoided. You can't really see my legs in photos, but rest assured that I'm also wearing glitter tights and sensible shoes.
Here's the front view of my dress. The windows aren't actually crooked, but my dress form is.
The side view shows the shape of the dress a little bit better. It's a modified sheath pattern with pleats added in the front and the back to give the waist some definition. When you're 5'2″, a dress without waist definition is NOT a good idea.
Here's a detail shot of the fascinator. I made it with eco felt and paper, and there are two hair clips attached to the bottom to hold it on my head. I re-purposed an LED candle that I already had on hand to make the light work.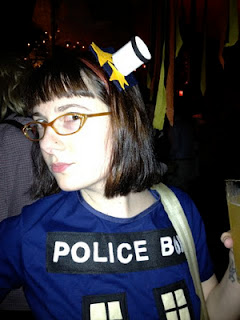 Party TARDIS!
This photo is mostly for fun, but it also shows the fascinator with the light on. When this was taken, James Brown's "Get Up (I Feel Like Being a) Sex Machine" was playing at the bar. (Who knew that that was the full title of the song?!) I'll go ahead and give you a moment to picture a TARDIS dancing to such a thing.
Tonight, I'll be donning my costume once again to visit The Way Station, which purports to be a Doctor Who-themed bar in Brooklyn. Since I'm pretty sure that this costume makes me every nerd-boy's dream girl, I sure hope that my husband's ready for the madness that could ensue!
Happy Halloween, everyone!