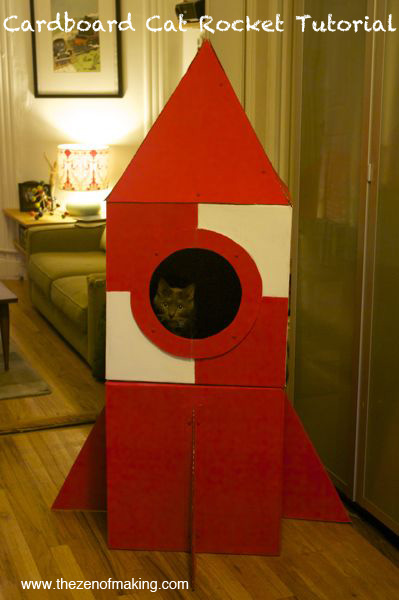 My cat rocket tutorial, How-To: Build a Cardboard Cat Rocket, is now up on CRAFT!
How-To: Build a Cardboard Cat Rocket

No matter how many fancy cat toys they have, there is nothing in this world that makes my cats happier than a good old fashioned cardboard box. So, taking a cue from them, I designed a cat tree that turns four regular cardboard boxes into a flashy two-story cat rocket, complete with carpet for scratching and a porthole to jumping into and spying out of. And, wouldn't you know, it worked! I don't think I've ever seen my cats more excited.

My husband has a soft spot for the Tintin books from his childhood, so we painted our rocket with the trademark red and white checkerboard design that he remembers so fondly. You don't have to follow our lead, though. Feel free to paint your cat rocket to match any rocket ship you'd like!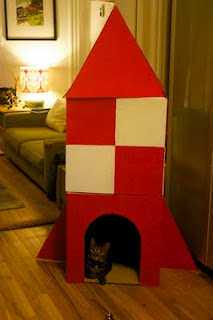 This is one of those projects that actually ended up looking EXACTLY how I had imagined it. It's almost as though the crafting gods pulled it out of my brain and put it into my apartment. But, if it hadn't been for the help of my very patient husband, I don't think it would have turned out nearly as well. His ability to manipulate structures and shapes in his head definitely saved me from hours and hours of extra work and catastrophic mistakes! (Thank you, Jeremy!)
If you're planning on making a cat rocket of your own, keep in mind that it's a weekend project, not an after work project. It's detailed and large (it's almost as tall as I am), but totally worth it! Your cats will be ridiculously excited.
Now, where in the world am I going to keep a GIANT cat rocket in my tiny Brooklyn apartment?