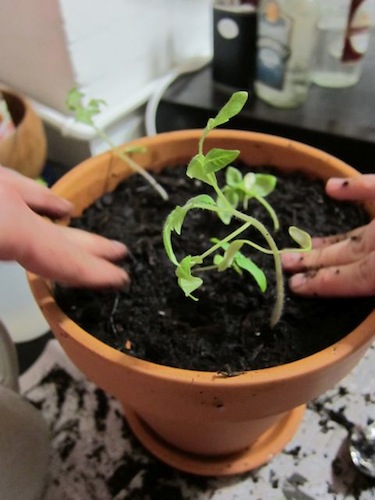 Yesterday, I learned about companion planting in container gardens. And, as it turns out, we couldn't have picked a better combination of seeds to start for our fire escape garden!
In the pot above, the tomato is cozying up to some basil. We also planted thyme with our strawberries, and the rosemary seedlings are about to find a new home with a rowdy group of hot peppers.
In case you don't know, companion planting is a method of combining complementary plants in your garden in a way that is mutually beneficial, either by warding off pests, enhancing flavor, or helping to keep the sunlight/soil/water at ideal levels for both to thrive. You can combine companion plants in raised beds, regular gardens, and containers. (If you're using containers, make sure you're not overcrowding!) I found this companion planting list from Golden Harvest Organics to be very helpful.