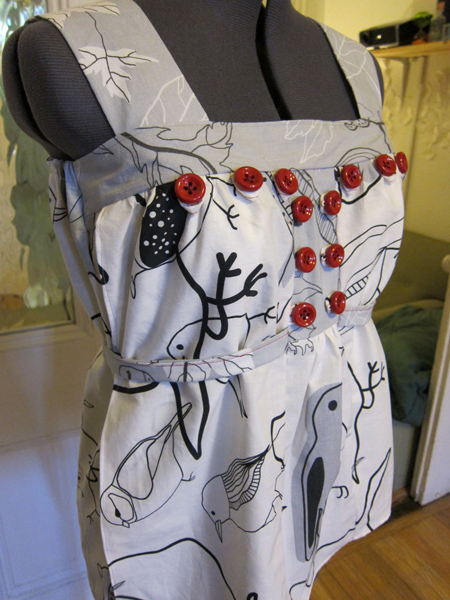 I feel the need to point out two things about this photo:
1. I finally finished the nursing shirt for Michelle!
2. I did indeed put a bra on my *amazing* new petite dress form and stuff it with socks to approximate the giant mommy boobs that neither I nor the mannequin have. (I mean, what would you have done?)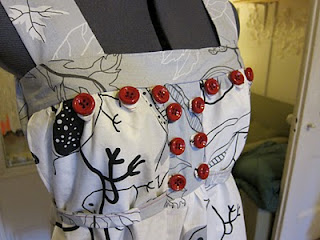 Here's a closer look at the adorable, chunky red buttons that I found at M&J; Trimming.
For those of you not familiar with nursing shirts like this, the buttons are actually just for decoration. The real magic is in the front panel, where the empire waist unties and lifts away, creating what can best be described as a baby-feeding tent. Under the front panel, there are two additional panels that hang over either breast, which restrict side-viewing access and help hungry babies feel safe and comfortable.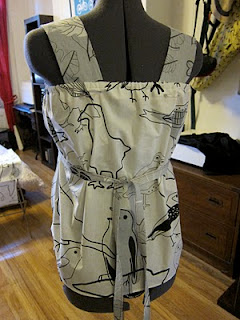 The back has a strip of elastic around the top to maintain fit, and the straps tie in the back to give some shape to the shirt and secure the front panel in place.
I think it turned out very well, and I can't wait to pack it up and send it out!
About the mommy:
Michelle is an active member of the pro-breastfeeding community in Vermont. I strongly support her efforts, and the efforts of all breastfeeding moms, to stand up for the rights of women to share this beautiful, natural, and loving gift with their children. I really hope that she'll send a photo of the shirt in action! :D