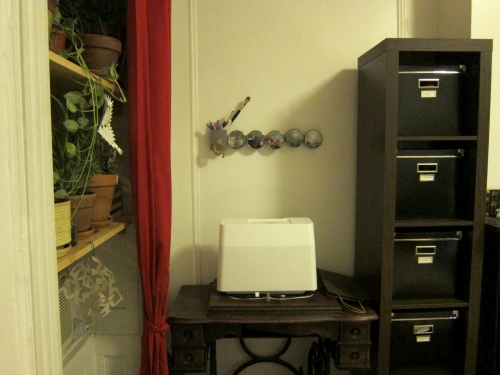 In the middle of the holiday crafting rush, I finally reached my disorganization threshold for my sewing and crafting supplies. (Admittedly, due to the OCD, that threshold is not high.) I was making so many things, and doing so many different types of projects at the same time, that I couldn't find anything. I was even buying duplicates of supplies that I knew I had because I didn't know where the heck anything was. Clearly, it was time for a trip to IKEA.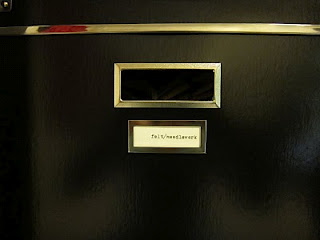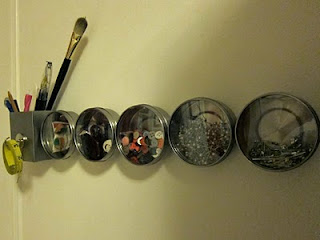 To keep from going crazy, I took a (very valuable) afternoon off from crafting, and, with Jeremy in tow, trekked out to our local organization mecca. We came home with some simple solutions that really revolutionized the efficiency of my space. Because we live in a Brooklyn shoebox, my creative area is also the bedroom, or the kitchen, or the living room. I often work on a project in more than one place at the same time, so I need to have fast access to the supplies I use regularly, a clear location for everything else, and the ability to quickly pack away all of my materials when I'm done.
What we did:
* Put a tall shelf next to my sewing desk with clearly labeled storage boxes for fabric, crochet supplies, notions, etc…
* Added a magnetic strip with a combination of container types to allow easy access items that I regularly use
With these two additions to my space, I was able to clean out the drawers of my sewing table, my secretary, and my desk —where various crafting materials had been stashed over time—and put them in a designated location. The result: my crafting space is now a source of relaxation and enjoyment rather than stress. Also, it looks cool.