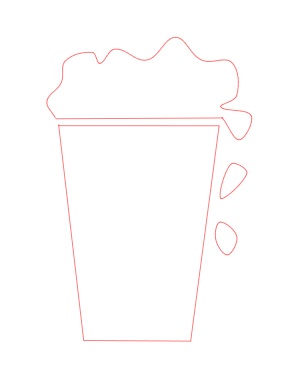 My friend Sammy is getting married. But, as she lives in Chicago and I live in Brooklyn—and nobody has gotten around to inventing a teleportation device—I didn't get to go to her bachelorette party.
Since I couldn't be there in person, I wanted to send her something fun. So, I put my fancy new Silhouette SD to work and made my very first card. Then, with the help of one of Sam's local friends, it was hand-delivered at her party. (Thanks, Brian!)
Of course, I somehow managed to delete all of the photos that I took of the finished product, so you'll just have to use your imagination. Picture the image above, but with patterned fabric behind the cutout, and "Beer. Let me buy you one." inside.
Know someone who needs a drink? Download a free copy of my Beer Card Template here!
(Don't like beer? I think it could also pass as a fancy cappuccino.)