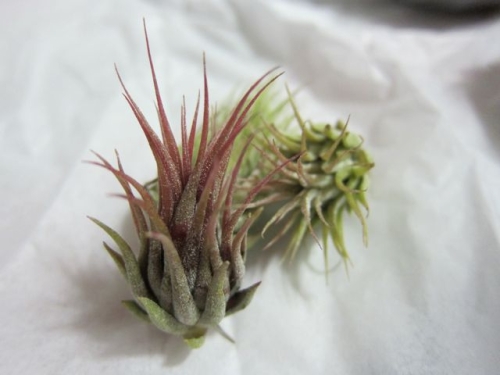 Yesterday, only a few short days after I placed my order, my first shipment of air plants from Air Plant Supply Co. arrived, and it felt kind of like Christmas morning.
The box! It's here! Isn't the Air Plant Supply Co. logo cute?
Not only is the logo great, the inner packing made me feel like I'd received something really special.
There are many, many varieties of air plants, but this time I managed to limit myself to only three. These wild and crazy-looking guys are Caput Medusae.
This happy pile of spiky green is three Kolbii plants. If I'd thought that I could make it through the day without damaging the plant, I would have definitely added one of these to today's hairstyle.
These are the tiniest, most adorable air plants I've ever seen. They're Ionantha Peanuts, and they're each about the size of a quarter. I literally squealed with joy when I unwrapped them.
It's going to be really hard not to go overboard now that I've found Air Plant Supply Co. Cross your fingers that I don't go nuts and start ordering air plants in my sleep, or anything.