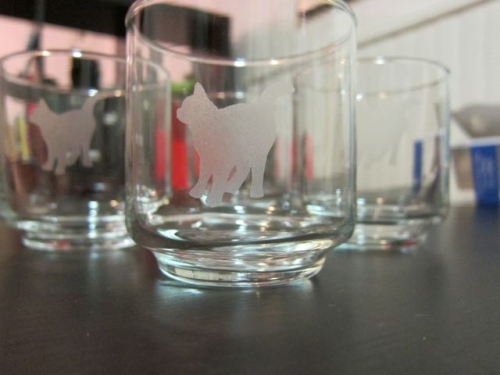 One epic Saturday afternoon, I searched the five boroughs high and low (okay, so it was just Manhattan and Brooklyn) for one essential component of an upcoming project: etching cream. Unsurprisingly, given the prevalence of graffiti artists and the abundance of subway windows and storefronts, there are very few places left in the city that will actually sell etching cream, and every single one of them was out of stock. Bummed that my weekend crafting plans had been thwarted, I resigned myself to waiting, and ordered the etching cream from Joann Fabric. But, by the time my shipment arrived, I was in the middle of several very busy weeks at work, so the much-anticipated etching cream sat unused until this past weekend, when I finally had time to sit down and try it out. Here's what happened: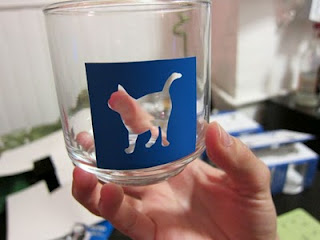 I cut out a cat silhouette on a self-adhesive vinyl sheet and stuck it to a clean glass.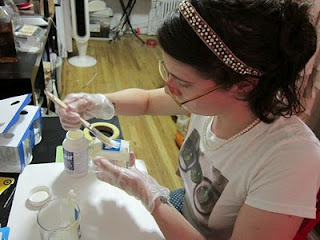 Armed with a brush and gloves, I painted a thick layer of etching cream over the vinyl cutout.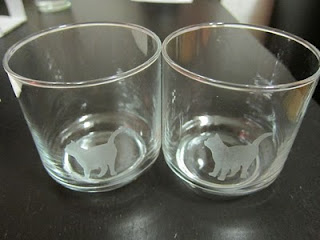 Five minutes later, I washed off the etching cream and had some pretty classy-looking glasses.
***
I made this set as a birthday gift for my friend Amanda. She and her roommate have one 4-legged kitty and one three-legged kitty at home, so, if you look closely, you can see that one of the cats above is a tripod. On a roll, I also made a set for my Mom's birthday, and couldn't resist keeping a set for myself as well.
If anyone is interested in more detailed instructions, I definitely have enough photos of the process to throw together a full tutorial.
**If you click through a link to Amazon.com in this post, I will make a little money if you make a purchase. Don't say I didn't warn you.**