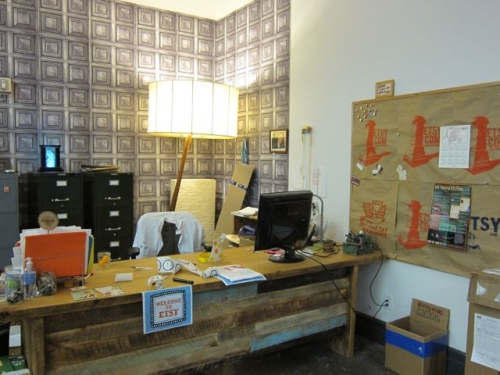 On Friday, in celebration of Etsy's 5th birthday, Etsy Labs in DUMBO threw a giant, crafty bash.
I'd been meaning to check out Etsy Labs' weekly craft nights for a while, but, due to my shyness/general awkwardness (and having a business class scheduled on Monday last semester), I never quite made it out. But, since this craft party was on a Friday, and I was pretty sure I'd get to have a beer, I built up my confidence and marched into the party on my own.
For my first project of the evening, I made mini bunting flags. While cutting, gluing, and chatting with the other folks at the table, I met Robin Cole of Vive Handmade, who sells really neat hand-printed fabric in her Etsy shop. I also met Audrey Manning of Cotillion, who, among other things, makes awesome silhouettes. I'd really love to team up with her on some etching projects in the future!
Next, I moved on to printing a tote bag, where I learned that I am absolutely horrible at silk screening. I was so bad, that the girl who was running the station printed mine for me. (She said that she wouldn't tell anyone—it was that epic a failure!)
While in line for tote bags, I met Laila Grainawi (whose cute popsicle tattoo is pictured in the first silkscreen photo), of Lai Grai. Laila is a fiber artist, and her work is beautiful, earthy, and incredibly creative. She also introduced me to Julie, who works on Etsy's community team, and with whom I got to briefly geek out over the awesomeness of air plants.
My visit to Etsy Labs wouldn't have been complete without a twins photo, so Laila posed with me before I headed home for the evening. (Thanks to Julie for taking the photo!)