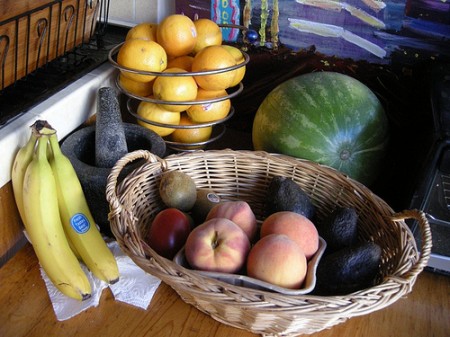 Starting on May 1st, I will be taking part in Happy Herbivore's 30 WHOLE Days Challenge. Basically, this means that, for the month of May, I will be making every effort to include only whole, non-processed foods in my diet and cooking.
At first, I thought this challenge sounded pretty easy. I mean, I pack a lunch every day, I pride myself on eating a varied and nutritionally sound diet, and I generally prefer to cook from scratch, rather than buying pre-packaged foods like breads, pie crusts, and sauces. But, then I started really thinking about it. How many meals do I eat each day that don't contain any ingredients that have been processed? Honestly, the answer is probably none. From my cereal or protein shake in the morning, to my Gardein stuffed cutlet for lunch, to my tofu and peanut sauce for dinner, to my small dish of soy ice cream for dessert, there isn't one meal I've eaten this week that didn't include processed foods. This revelation is startling to me, as I consider myself to be knowledgeable about what I'm eating, and I like to think that I make informed choices about what I put into my body.
I'm approaching this challenge with with many questions: How will I feel once my body gets used to eating whole foods? Will this experience cause a fundamental change in how I eat, or will it be a temporary diversion from my normal routine? Am I going to go crazy craving salt, and will I be able to cook without olive oil? Will I find it to be too hard, and give up after a week? Will I cheat? If I do, will I fess up to it? Is this a reasonable lifestyle choice for a busy urban lady with a crazy life, a job, and a (small) family?
Despite my questions, I'm optimistic. I've asked Jeremy, my husband, to consider doing the challenge with me. Short of fully committing, he's agreed to be supportive, and to use this month as an opportunity to sit down together more often for meals. I'm really looking forward to that, and I'm excited to both stretch my abilities and simplify my meals.
Jeremy must really be thinking about it, because he just asked, "Wait. Does this May thing mean that we can't drink beer?!"