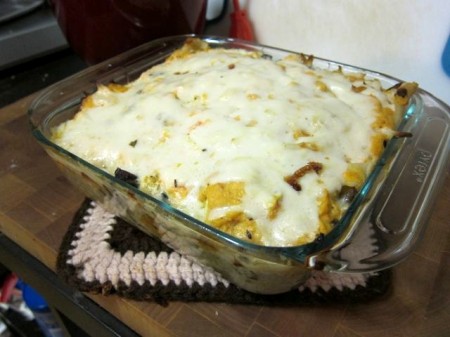 Whenever my friend Brooks comes to town, we always update our running list of foods that we can both eat, and spend a lot of time trying to figure out the most elaborate and complete meals that we can make from the ingredients therein. Because I'm vegan and Brooks has severe food allergies and eats a strictly gluten-free diet, we have historically not had too many dishes in common. Throughout many years of friendship–and many variations in our food allergies–we have always looked for a miracle meal. After his most recent visit, it seems that we have finally found it: We made delicious, delicious lasagna that is both gluten-free, free of processed sugars, and vegan. Huzzah!
Gluten-Free Vegan Lasagna

A note on vegan lasagna:
I have historically found vegan lasagnas to be too watery, not very flavorful, and incredibly disappointing. This time, on a whim, I made a sauce that was inspired by my absolute favorite Vegan Yum Yum recipe: Super Quick Tomato Basil Cream Pasta. I don't know why I didn't think to use a cream sauce in lasagna before, but I'll probably never go back plain tomato again–it really gave my lasagna exactly what it had been missing.

The Best Vegan Gluten-Free Lasagna Ever
1 box gluten-free brown rice lasagna noodles, cooked and drained
1 block of Follow Your Heart Vegan Gourmet cheese in Monterey Jack , shredded (Just trust me on this one.)
.5 block of extra firm tofu, crumbled
4 medium vine tomatoes
1 cup spinach, washed
1/2 to 3/4 cup water
3/4 cup raw cashews
1/4 cup nutritional yeast
6 cloves garlic, minced
4 tablespoons olive oil
1 tablespoon lemon or lime juice
1 teaspoon dried basil
1 teaspoon dried oregano
1 teaspoon granulated garlic
A splash of white wine to taste (sweeter is better)
Salt and pepper to taste
To make the sauce:
Saute the 4 minced cloves of garlic in 2 teaspoons of olive oil until it's just starting to brown. In your food processor or blender, combine the tomatoes (sliced, but with seeds), raw cashews, white wine, water, garlic, and basil. Once completely processed and smooth, pour the mixture into a large skillet, simmering until the sauce darkens and cooks through (5 minutes or so). Add salt and pepper to taste.
To make tofu ricotta:
In a large bowl, combine crumbled tofu, nutritional yeast, lemon or lime juice, 2 teaspoons of olive oil, 2 cloves of minced garlic, granulated garlic, and oregano. Mix thoroughly using your hands. Add salt and pepper to taste.
In a well-oiled 8″ x 8″ baking pan, layer noodles, tofu ricotta, sauce, and a thin layer of spinach. Sprinkle with cheese. Repeat until pan is filled, and finish with a layer of cheese on top. Sprinkle some extra basil or oregano on top, if you feel like it. Cover with tinfoil and bake for 30-35 minutes at 350 F.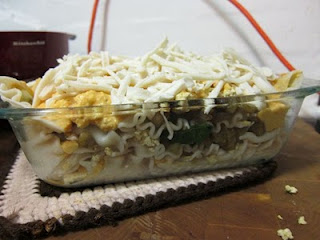 Optional:
We added fried eggplant to each layer, which was definitely tasty. Next time, I think I'll add some broccoli.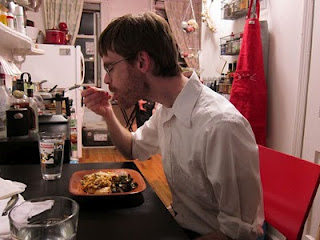 Brooks savoring his first bite of lasagna in years