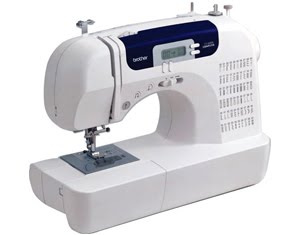 (My new toy, courtesy of http://www.brother-usa.com/)
Holy jeez, my mom is awesome! For my birthday (which is next week), she surprised me with the sewing machine I've been eying for months. I am now the proud owner of a Brother CS-6000i, which, if Consumer Reports can be trusted, is a mighty fine machine.
After learning to sew on my trusty avocado green Sears Kenmore 1302, I'm completely overwhelmed by what this new machine can do. It threads itself (upper and lower), has a leaf patterned decorative stitch (among 59 others), can make 7 kinds of button holes, and can even thread the needle for you!
I don't dare try any test stitches tonight–or I'll never go to bed–so an inaugural project will just have to wait. But, in preparation, I did read the manual front-to-back, so I'm totally ready!
**If you click through a link to Amazon.com in this post, I will make a little money if you make a purchase. Don't say I didn't warn you.**