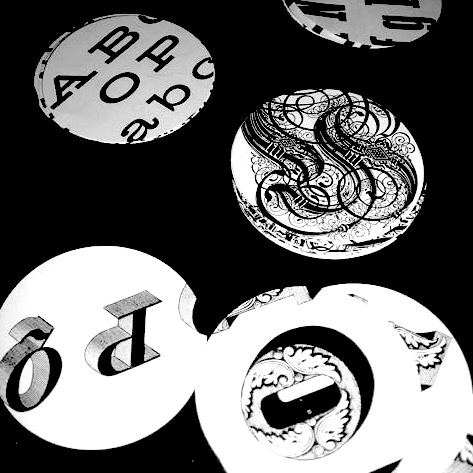 As planned, Jeremy and I spent a good portion of the afternoon searching for books to use in our books-to-buttons project. Our plan was to find graphically interesting books that were unlikely to be used in the future because of poor condition or outdated information (old science books and atlases), and to recycle them into new sets of buttons using as many of the pictures and pages as we could. With that in mind, we decided to forgo our walk through Brooklyn Flea this afternoon, and headed straight for our local used bookstore.
Unsure about what we would find, we managed to hit the jackpot: an old typography book, an illustrated children's physics in motion book, and a dictionary of slang and unconventional English from 1961. The typography book yielded visually interesting buttons with multiple letters and odd fonts, and many of the physics buttons ended up being very funny, the drawings taken completely out of context. We didn't make any buttons using the slang dictionary yet–it's still in pretty good shape, and I'm considering keeping it around. Did you know that to "shoot the cat" means to vomit? Also, "cat-sticks" are skinny legs.
The buttons are coming along, though we only got through a fraction of the designs we picked out before calling it quits to get ready for bed. Once we get all of them made and sorted into sets, we'll set up our Etsy store and make them available to anyone who is interested. Here are a couple of photos to give you an idea of the designs that we're working with: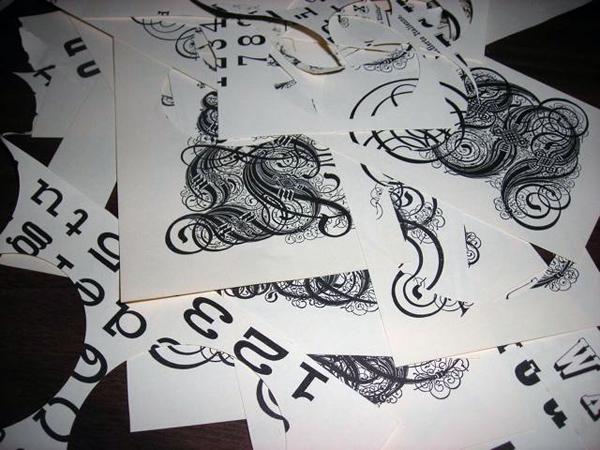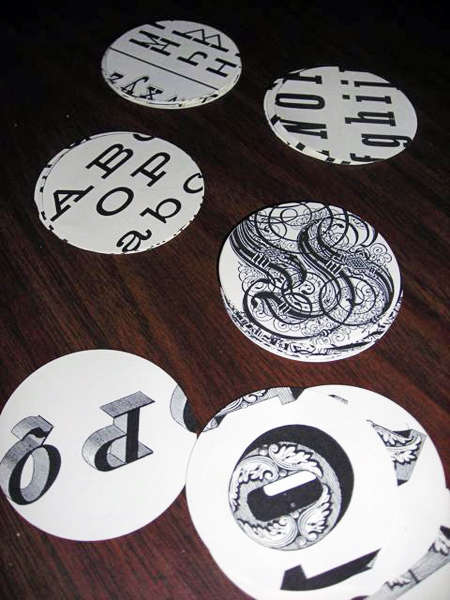 In case you were wondering:
Where do you buy a good button maker?
We got our button maker at American Button Machines, and couldn't be more pleased with the quality. We initially made the purchase to make buttons for favors for our wedding, but have had no trouble finding good reasons to keep one in the house.
What are we doing with all that extra paper?
We have indoor composting in our kitchen, and will use the paper scraps as bedding for our worm bin.