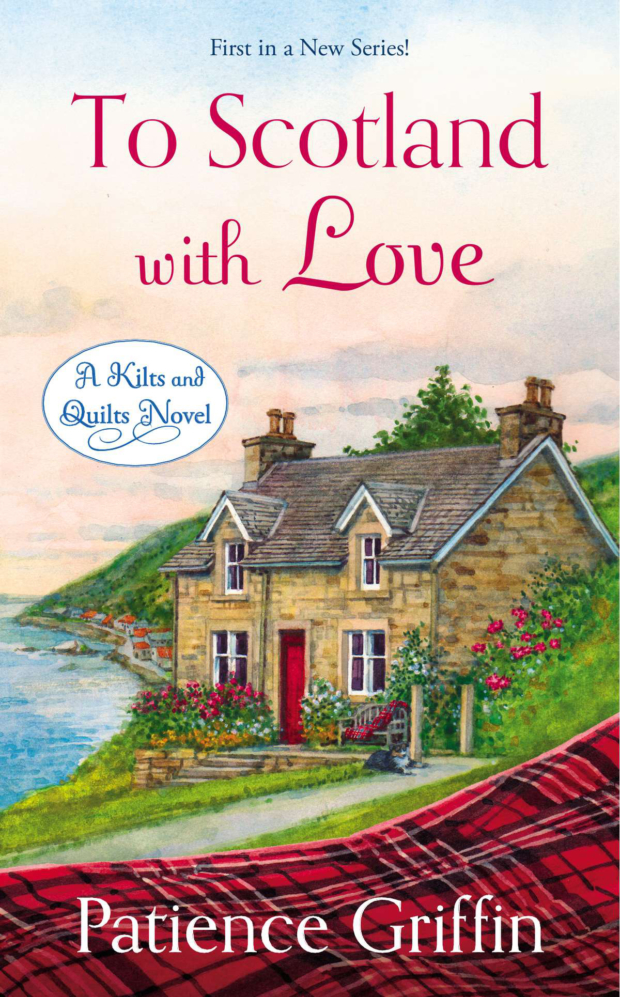 Something's getting a bit steamy in my craft studio, and I'm pretty sure it isn't my iron! (Though, my iron is pretty great..) So, if your next stitch-and-listen session could benefit from the addition of a good romp under some beautifully-pieced patchwork, To Scotland with Love, the first book in Patience Griffin's Kilts and Quilts series, might just scratch your sewing-with-a-side-of-hot-man-in-plaid itch.
Title: To Scotland with Love (affiliate link)
Series: Kilts and Quilts, Book 1
Author: Patience Griffin
Narrator: Kirsten Potter
Rating: 4/5 stars ★ ★ ★ ★ ☆
Craft and genre: Quilting Romance
Publisher's description/jacket copy:
Welcome to the charming Scottish seaside town of Gandiegow—where two people have returned home for different reasons, but to find the same thing…

Caitriona Macleod gave up her career as an investigative reporter for the role of perfect wife. But after her husband is found dead in his mistress's bed, a devastated Cait leaves Chicago for the birthplace she hasn't seen since she was a child. She's hoping to heal and to reconnect with her gran. The last thing she expects to find in Gandiegow is the Sexiest Man Alive! She just may have stumbled on the ticket to reigniting her career—if her heart doesn't get in the way.

Graham Buchanan is a movie star with many secrets. A Gandiegow native, he frequently hides out in his hometown between films. He also has a son he'll do anything to protect. But Cait Macleod is too damn appealing—even if she is a journalist.

Quilting with her gran and the other women of the village brings Cait a peace she hasn't known in years. But if she turns in the story about Graham, Gandiegow will never forgive her for betraying one of its own. Should she suffer the consequences to resurrect her career? Or listen to her battered and bruised heart and give love another chance?
[Book cover image and publisher's description via Berkley (Penguin Random House)]
My thoughts on the story:
This was my second time listening to To Scotland with Love—I've also read the other books in the series—and, after having reviewed so many crafting-related cozy mysteries, I thought it would be a good way to introduce some crafting-themed romance into the mix.
As with almost any book that subscribes to more traditional romance storylines, this book delivers pretty much exactly what it says on the tin: Brokenhearted heroine returns to hometown, meets town's slightly-damaged-but-shockingly-single favorite son, reconnects with her past by way of local quilting group run by cranky-ass grandma with a hidden heart of gold, and then has lots of hot, bad idea sex with aforementioned dude. (None of this is a spoiler—that's just how romances work.)
First things first: In the notes file I kept while listening to this book, the very first line I wrote was "Swearing and sex! Thank goodness!" So, if neither of those things are up your alley, you might want to hold off until I get around to reviewing my favorite Amish quilting mysteries and romances. (Which are a very real thing, and I adore them. But they're definitely not bringing the doin' it.)
On the reality of small towns: This book definitely falls victim to my biggest longstanding cozy mystery/romance pet peeve, the age-old mystery (to me) of coming-back-home novels everywhere: Cait grew up in Gandiegow until she was a teenager—and it is a VERY small town—so why doesn't she know some of the older ladies in the quilting group? And why, again, has she never met Graham before? There's a bit of an age difference, but they still would have more or less grown up together. In a Very. Small. Town. (I, personally, grew up in a very small Midwestern town, which is why I'm forever calling bullshit on this kind of thing.)
That said: Despite my annoyance re: the unlikeliness of anonymity in Small Town Scotland, I actually really do like the setting of Gandiegow. The community seems warm and believable, and the residents' lives are really sweetly and realistically intertwined. The help and support they give to each other is exactly what I'd expect in that kind of setting.
The quilting: While I wouldn't say that quilting plays a major role in the action of the plot, it—and the quilting group—are a comforting constant throughout, and the projects discussed and the stitching processes described make me feel quite sure that we (the readers) are in the hands of an actual quilter (the author).
I can't remember if quilting itself plays a more prominent role in future books in this series. Guess I'll have to reread them and report back!
The relationship: For the most part, I really like Cait and Graham as a couple, and found myself rooting for them throughout the novel. But, periodically, they veer a bit too far into the boys-will-be-boys couldn't help himself/fails to listen to her nonsense that I, for one, could do without.
Re: Graham being famous: There's a fair bit of suspension of reality required to make his celebrity status make any sense. But, honestly, who cares. The man looks great in a kilt—and gets a little misty-eyed about dogs and handmade quilts—and that's truly what matters here.
My thoughts on the narrator:
Solid. (And not too over-the-top with the accents.)
My thoughts overall:
Crafting-related romances usually have just enough charm, coziness, and craft geekery about them to be ideal companions for evenings spent curled up at home with a nice knitting project or some hand-piecing, and To Scotland with Love definitely fits the bill. And it's just naughty enough and just dramatic enough to make those hours spent crafting really fly by.
One final warning for my fellow animal people: If you are a particularly sensitive soul where pets are concerned, I should forewarn you that you'll probably have at least one ugly cry in store. (But it's not related to mistreatment of any kind.)
Feline/canine sidekick bonus points awarded:
Two puppy points!
You can buy the book here: To Scotland with Love: Kilts and Quilts, Book 1 (affiliate link), or request it at your local library!
You can also add it on Goodreads here.
Pin the books on your to-read list:
Click here to read more crafty audiobook reviews!
Have you listened to any good books lately? I'm always open to recommendations!