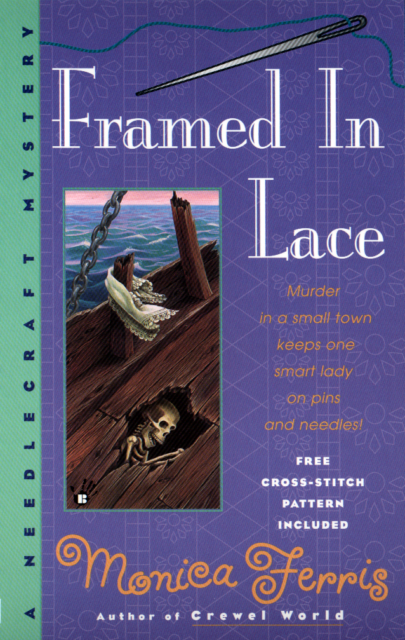 This week, we're returning to Monica Ferris' A Needlecraft Mystery cozy mystery series with her second fiber-filled whodunnit: Framed in Lace: A Needlecraft Mystery, Book 2! But, fair warning, friends. If you aren't already dying to learn bobbin lace—pun very much intended—you just might finish this book with brand new DIY obsession. Don't say I didn't warn you! (True story: Thanks to this book, I'm now signed up for a bobbin lace class at the Textile Arts Center here in Brooklyn, which starts in October. I'm ridiculously excited!)
Title: Framed in Lace (affiliate link)
Series: A Needlecraft Mystery, Book 2
Author: Monica Ferris
Narrator: Susan Boyce
Rating: 4/5 stars ★ ★ ★ ★ ☆
Craft and genre: Needlework Cozy Mystery
Publisher's description/jacket copy:
When the historic Hopkins ferry is raised from the lake, a skeleton is discovered. Unfortunately, the only evidence is a piece of lace-like fabric. But once Betsy Devonshire and the patrons of her needlecraft shop lend a hand, they're sure to stitch together the details of this mystery…
[Book cover image and publisher's description via Penguin Random House]
My thoughts on the story:
One of the things that I love most when reading a crafting-related cozy mystery is when crafts are actually part of the clues and overall strategy for solving the murder, and this book does a particularly nice job of weaving needlework and lacemaking into the storyline while still building a believable plot. Unfortunately, because Ferris created a story with so many crafty connections and characters connected through crafts, it's almost impossible for me to comment on the story further without stumbling over spoilers left and right.
I don't want to accidentally ruin the book for anyone, so here are just a handful thoughts that I feel comfortable sharing:
Mini research rant: Why didn't someone just head to the library to check the newspaper microfilm to confirm historical dates? (Isn't that the first thing a good investigator would have done if dates seemed muddled?)
The focus on Alice's appearance got old fast. Yes, yes, we get it. She's a tall lady with broad shoulders.
The writing got repetitive in a few places, with explanations being given multiple times using the same words. It's nothing a little more editing couldn't fix, but it was sometimes a bit distracting.
I really appreciated the thorough-but-not boring descriptions of the handknits, lace, and needlework throughout. Ferris always managed to include the relavant detail while making those passages sound and feel as natural as a friend at my local yarn shop telling me about a gorgeous sweater she spotted at a craft fair—just the right balance of information and enthusiasm.
Oh man. Now I really want to learn how to make bobbin lace!
My thoughts on the narrator:
Perfectly fine. No complaints.
My thoughts overall:
Even though, thanks to some pretty heavy-handed hints, I'd definitely figured out who the murderer was early on, I still really enjoyed the book, and found it to be a fun and engaging story. As I said in my review for the first book, I really like the characters in and around the Crewel World shop, so solving the mystery early didn't put that much of a damper on my reading pleasure!
In addition to the story, the book also included some great tools that the crafters reading will be able to put to good use in future projects. Mixed into the action, there were handy tips like instructions for removing colors that run in needlework. And, like in the previous book, there was also a nice detailed breakdown for pricing handmade items—here, specifically needlework—reinforcing the importance of getting paid fairly, and clearly illustrating why handmade goods are often so expensive. (This book was definitely way ahead of its time when it included that information, and, even nearly 20 years removed, it's nice to see the value of handmade items so clearly expressed!)
Feline/canine sidekick bonus points awarded:
Bonus points awarded for one very large Sophie Cat!
You can buy the book here: Framed in Lace Audible Audiobook (affiliate link), or request it at your local library!
You can also add it on Goodreads here.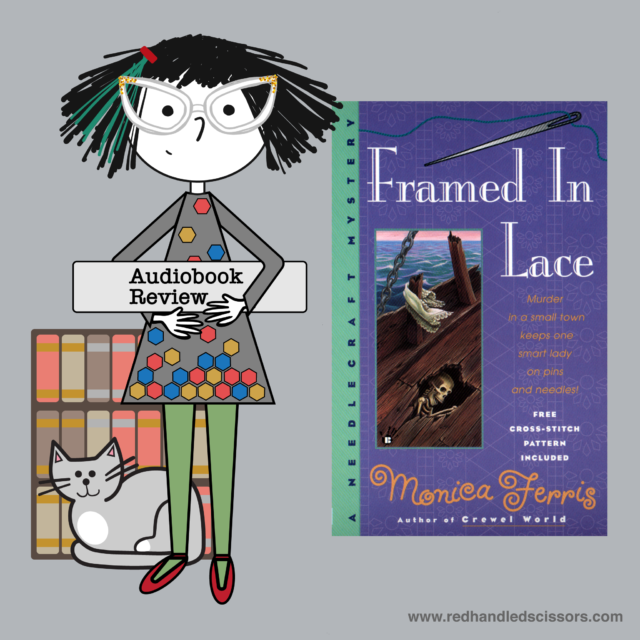 Pin the books on your to-read list:
Click here to read more cozy mystery reviews!
Have you listened to any good books lately? I'm always open to recommendations!