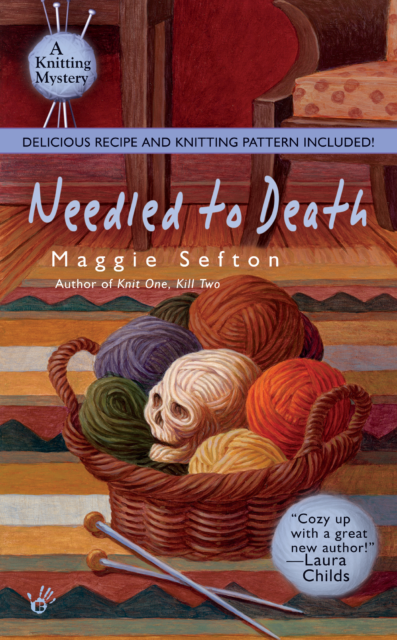 Lately, it seems like a bunch of new crafting-related cozies are popping up in Audible, filling out some holes in series that were previously pretty hit-or-miss availability-wise. Which is great for those of us who've been left hanging mid-story. Alas, it isn't great for reviewing books in order. So, while I will almost certainly return to book 1 of the A Knitting Mystery series at some point, I'll be starting my reviews of this series with Book 2, which was just released over the summer. Forgive me—I just couldn't resist picking up something I hadn't already read! (I've actually read both book 1 and book 9, but, due to the aforementioned audiobook availability issues, it was a reeeeeealy long time ago. Far too long for an off-the-top-of-my-head review for the first book.)
Anyway, now that explanations have been given and pardons have been begged, on to the review!
Title:
Needled to Death
(affiliate link)
Series:
A Knitting Mystery
, Book 2
Author:
Maggie Sefton
Narrator:
Jane Jacobs
Rating: 2/5 stars ★ ★ ☆ ☆ ☆
Craft and genre: Knitting cozy mystery
Publisher's description/jacket copy:
Now that she's been knitting up a storm with the help of her new friends at House of Lambspun, Kelly Flynn can't imagine ever leaving Fort Connor, Colorado. But there's trouble in her adopted hometown—and not just with her new sweater project…

When Kelly volunteers to take a troop of tourists to visit Vickie Claymore's alpaca farm, she discovers Fort Connor isn't as sedate as it seems. Instead of a warm welcome, they find Vickie splayed out on her original hand-woven rug, her blood seeping into the design…

The police jump on the case, but Kelly can't resist doing a little investigation work of her own—even if it means taking a break from the sweater she's been knitting in the round. Because a murderer is lurking in Fort Connor—waiting for the right moment to strike again…
[Book cover image and publisher's description via Penguin Random House]
My thoughts on the story:
The writing was decent, as was the narration. But, friends, I have so many questions. First of all, how are these knitters—who mostly do seem to have jobs—able to stop into a yarn store to casually knit with their friends in the middle of the day, and sometimes multiple times per day? Second, is it even possible that a group of adult women attending an alpaca farm tour would have neither the good sense nor enough collective don't-contaminate-the-crime-scene knowledge gleaned from presumed decades of viewing random Law & Order episodes to know better than to rush headlong into a murder scene to gawk at a dead body? (I always have a bit of a forensics bee in my bonnet—I'm a cop's kid, I can't help it—but too many basic common sense fails is really distracting in a story, and this book crossed that line a few times.) And, finally, if you're going to decide that you simply must confront a murderer, and you've planned this out reasonably in advance, why not also plan to have a cop or two hidden in the room with you? I mean, just saying.
My thoughts on the narrator:
Perfectly fine.
My thoughts overall:
I think I might have to come to terms with the fact that I just don't like Kelly, the main character, and her insufferable, VERY frequently mentioned caffeine dependence, very much. In fact, I didn't really find myself liking or rooting for any of the characters.
That said, I'll probably end up trying another book or two in the series in the future, because I vaguely remember enjoying book 9 when I read it years ago, so there's a chance that the series might eventually end up developing in a way that will work for me.
Feline/canine sidekick bonus points awarded:
One big doggo and a shit-ton of bonus alpacas!
You can buy the book here: Needled to Death Audible audiobook (affiliate link), or request it at your local library!
You can also add it on Goodreads here.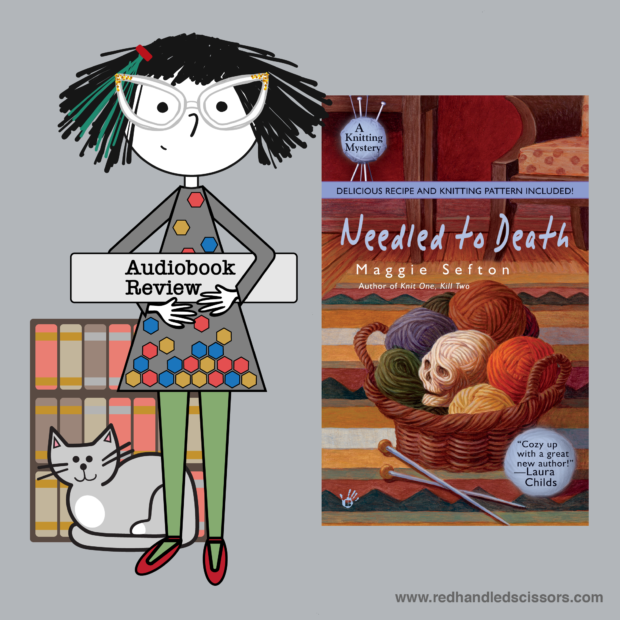 Pin the books on your to-read list:
Click here to read more cozy mystery reviews!
Have you listened to any good books lately? I'm always open to recommendations!