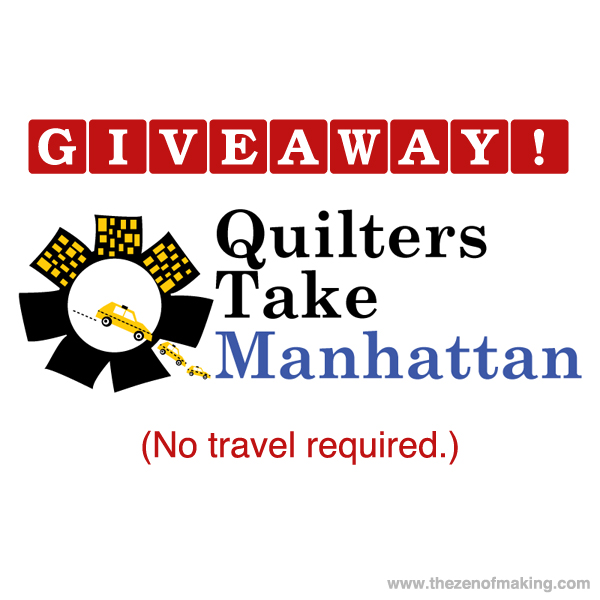 Want to attend a big NYC crafting event from the comfort of your own computer? You're in luck! The Quilt Alliance (The Alliance for American Quilts) is holding its biggest event of the year, Quilters Take Manhattan, and they've provided Home Tickets for the September 28th event for two lucky TZoM readers. (There's no travel required—Home Tickets provide online access only, so you won't even have to leave the couch!)
GIVEAWAY: Win a Home Ticket with a Special Event Goody Bag!
Want to experience Quilters Take Manhattan from home? Here's your chance! I'm giving away Home Tickets to 2 lucky TZoM readers.
The details:
Don't miss Manhattan's biggest quilt party of the year just because you can't travel to the Big Apple on September 28th. Enjoy the event from your home with a Home Ticket!
The prize will give you first access to Quilters Take Manhattan video footage online—the event at FIT, including Hollis Chatelain and Paula Nadelstern—plus a tote bag stuffed with goodies from the event sponsors.
How to enter:
The giveaway begins today, September 13th, 2013 at 2:00pm EST and will end on Friday, September 20th at 2:00pm EST.
To enter, leave a comment on this blog post. The 2 lucky winners of the Home Tickets will be selected at random and notified by email.
Due to shipping requirements for the goody bag, this giveaway is open to US residents only. (Sorry, international friends!)
Good luck, quilters and stitchers!
Even if you don't win, you can still attend! You can purchase your own Home Ticket for $25 on the Quilt Alliance website. Or, if like me, you're lucky enough to live in or near NYC, the same link will take you to more information about additional parties, tours, and attending the event in person.
Already going? I'll be there too! Make sure you say hello.
This is a sponsored post.