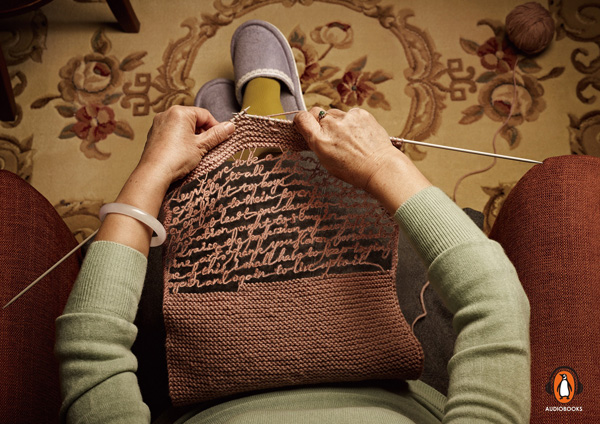 I've been ranting about this for years and years, and it looks like book publishers are finally getting the message: Crafters are the perfect audience for audiobooks!
I don't know about you, but I spend hours and hours each day working with my hands, and there's nothing I like better than listening to an audiobook while I'm sewing, knitting, editing photos, or designing. No matter how slowly my projects are progressing, listening to a book makes me feel like I'm still getting something done—I love that! And, do you know what? The same is true for most of my crafty pals and fellow DIY professionals. So, if you ask me, marketing audiobooks to crafters is an epic no-brainer, and I'm really, really excited to see publishers starting to take notice.

Now, if only the powers that be at these companies would invest in recording more crafting-related novels, series, and mysteries. I mean, if you're reading a cozy mystery or a romance that takes place in a knitting shop, chances are you're also a knitter. Alas, knitting and reading aren't generally activities that you can do at the same time. Same goes for sewing, scrapbooking, quilting, and needlework. The solution: audiobooks. Even better: audiobooks that I can download immediately from Audible/the iTunes Store/the publisher's website while I'm digging through my yarn stash and finding the right size needles.
But, isn't recording audiobooks really expensive?
Before you publishing-types start rolling your eyes, hear me out: I worked in book publishing before I started my career as a professional craft writer. I know that making a P&L work—especially for a specialty genre—isn't easy. All I'm saying is, there's a serious hole in the market when it comes to high quality crafting-related audio content and a great big community out there waiting for someone to fill it. If the audiobooks are available, I will buy them. So will many of my friends. So, let's help each other out on this one. Whaddya say?
More information:
Have you seen other audiobook ads targeting the crafting community? I'd love to see them! Please share links in the comments.