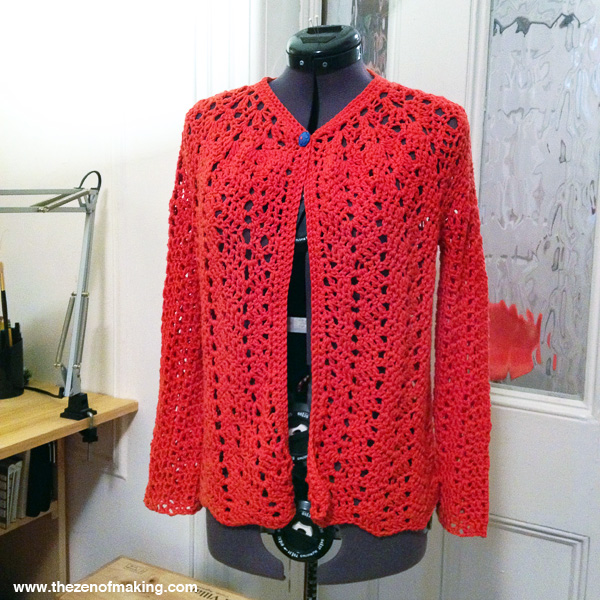 Despite last weekend's tragic ripping-out-the-second-sleeve-with-just-two-inches-to-go, I have triumphed: my crocheted chevron lace cardigan is finally finished!
This victory is especially sweet because, back when I was first learning how to crochet, this was the first large project with fancy yarn that I ever started. Alas, when the sleeves proved too difficult for my then-beginner hooking skills, my lovely lace cardi was relegated to the WIP box and all but forgotten. But, when I uncovered the project bag in last month's studio purge and revamp, I was delighted to find that, thought not perfect, the original work that I'd done was surprisingly strong. Once I added sleeves and and a few finishing touches, and I had a finished lace cardigan!
Here's what I used:
Pattern:
Chevron Lace Cardigan, by milobo on Ravelry.
Yarn:
Lana Grossa Linea Pura Organico (organic cotton), 50g/90m per skein. Color: 022.
Hook:
Size J (6.00mm) crochet hook.
I haven't blocked the sweater yet because I'm still trying to decide on the best approach. Since I used a relatively heavy cotton yarn, the stitches already look pretty even and the chevron lace design is open and visible. Beyond relaxing the yarn, I'm not actually sure that blocking will be very helpful. (Mind you, I'm going to do it anyway. Because, you know, that's how it's DONE.) So, if you've got a go-to method for blocking cotton sweaters, I'd sure love to hear about it!