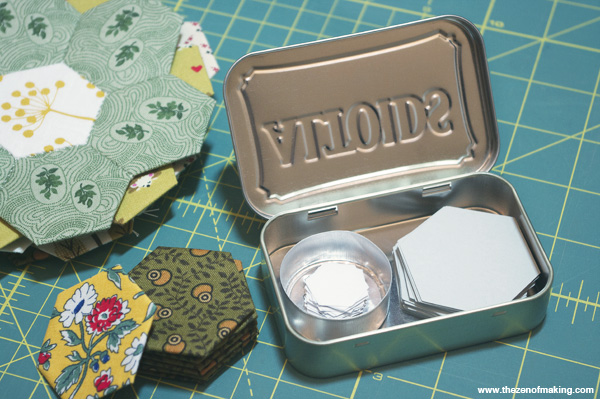 Are you an English paper piecing junkie? Sew on the go without worrying about bent or lost templates—keep your hexie pieces (or any other shape) safe, organized, and at the ready in an old Altoids tin!
Larger templates can be stored inside the tin in two side-by-side stacks for instant access. (1" hexagons are the larger shapes pictured above. The smaller shapes are ½" hexagons.)
If you're making smaller hexies, use empty tea light tins to keep them separated and easy to grab. (Thanks to Pam from Gingerbread Snowflakes for sharing the tea light tin trick with me during my Portland visit!)
If you're working with multiple sizes or shapes, use a tea light tin to separate the smaller shapes from the stack of larger templates to keep the project neat and orderly.
Right now, I'm working on two quilts—a cat-sized quilt and a people-sized quilt—so an Altoids tin is the perfect way to keep my template sizes separated and easy to find when I've got a few minutes to stitch. With my schedule, not losing precious minutes to hunting for shapes at the bottom of my project bag is definitely a plus, and I love that, whenever I want a change of scenery, I can just snap the lid shut and toss everything into my sewing bag on the way out the door. You gotta love no muss, no fuss quilting!
Got any stitchy tricks up your sleeve? What are your go-to tips for piecing quilt blocks on the go?