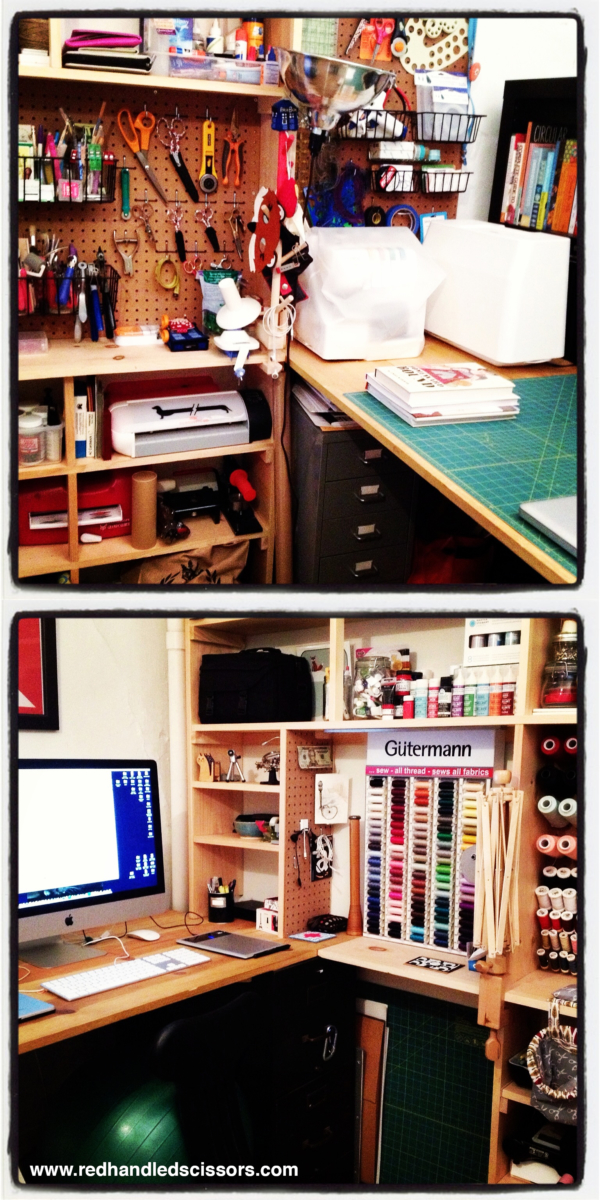 Last week, my laptop bit the dust mere moments after I arrived home from my 10-day trip to the Pacific Northwest. And, since craft writing is my job, and most of that work is done on the internet, not having a functional computer is simply not an option. Ever. So, one day—and one emergency trip to the Apple Store—later, I found myself back in my apartment with a brand new iMac (and an iPad Mini for working on the go), and no earthy idea where I was going to put it.
As you may recall from last year's small space studio tour, for the past year and a half, I've been working in a 5′ x 6′ area that was part of an office space that I shared with my husband. When I had a laptop, this setup was fine; if I was using my worktable for a project, I could always move my laptop to the kitchen table. No big deal. But, a giant desktop is another matter entirely. I couldn't devote my entire workspace to permanently housing a computer—I've got sewing, designing, and project photography to do. So, after giving it some thought, Jeremy and I came to a decision: I would take over Jeremy's half of the office space—effectively doubling my workspace in one fell swoop—and Jeremy would build himself a new custom desk in the bedroom. (Sometimes Brooklyn living isn't pretty, folks!) And, with that sorted out, we spent the rest of the weekend building, moving, and reorganizing. Now, here I am on Monday, back to work and luxuriating in my own 5′ x 12′ rectangle of the world. Ain't life grand?
Since I'm absolutely geeking out about my newly expanded studio space, I couldn't resist giving you a quick video tour this afternoon. (Especially while it's still nicely in order, and hasn't yet been hit by a tornado of work.) Kindly forgive the horrible iMovie music—I can assure you that it's way better than the NPR segment that was actually playing in the background of the shot.
So, what do you think?