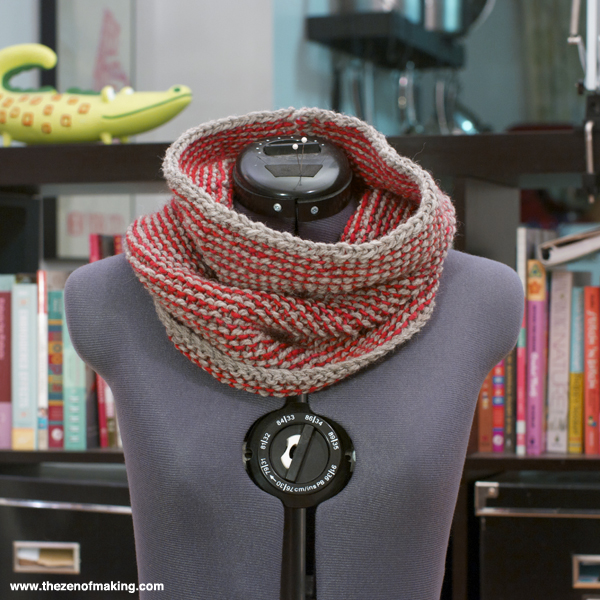 I made the Garter Gaiter knitted cowl from The Purl Bee!
No matter what I'm working on, I've always got a simple knitting or crochet project on the back burner that I can pick up whenever I've got a few spare moments between tutorials or during my lunch break. The requirements are pretty straightforward: the pattern must be easy enough to remember and simple enough that I won't screw up the whole darn thing if (read: when) I get interrupted in the middle of a row. The Garter Gaiter fit the bill perfectly!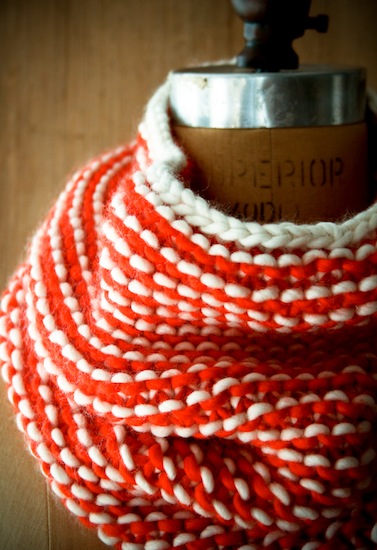 As you can see in the photo above, the Purl Bee version used a slightly chunkier yarn than I did, so theirs knitted up a bit faster and looks a bit more textured than mine. (I was in the mood for a little stash busting, so I grabbed the leftover yarn from my crocheted slipper tutorial series.)
In case you want to do some stash busting too, here's what I used:
Yarn:
Needles:
**Please note that the links provided above are affiliate links, and I will be compensated if you choose to make a purchase after clicking through.**
Pattern notes:
The original pattern called for bulkier yarn and size 15 needles. To compensate for my smaller yarn and smaller needles, I upped the number of stitches from 60 to 75 to get the correct width in the finished cowl.
Parting thoughts:
The Garter Gaiter was a simple, quick project, and the instructions were easy to follow, even with large time gaps between rows. I'd definitely recommend adding one to your own back-burner crafting list. Head over to The Purl Bee to see the full pattern!