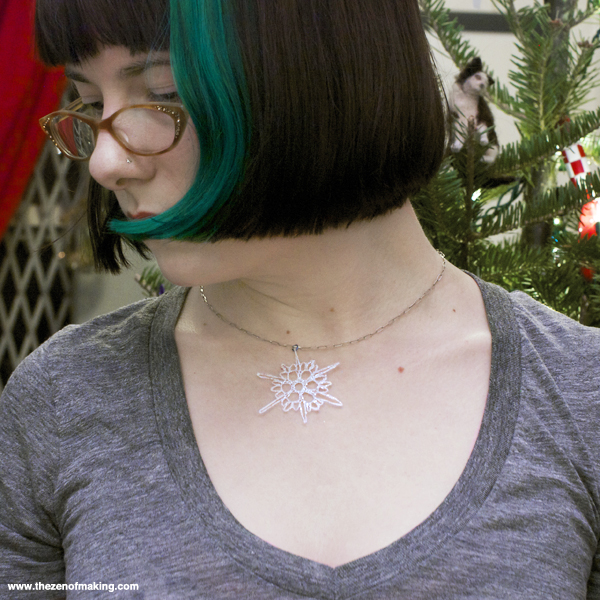 Handy with a steel crochet hook? Add some teeny tiny holiday cheer to your wardrobe with this mini crocheted snowflake necklace pattern and tutorial! They're quick to whip up and will harden overnight, so there's still time to make one before Christmas.
Warning: This project is made with sewing thread and a very small steel crochet hook. It's not recommended for beginning crocheters.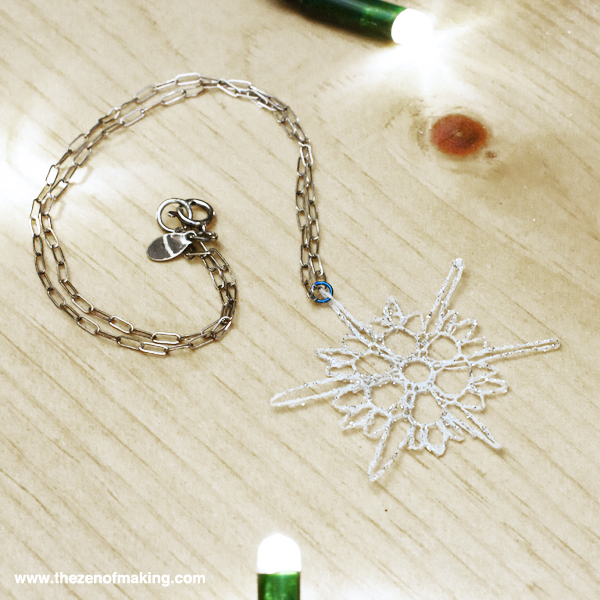 Supplies:
* White sewing thread

* Jump ring

* Chain necklace
(or make your own)
* Clear nail polish

* Glitter
(optional)
* Wax paper
Tools:
* 1.25mm steel crochet hook

* Straight pins

* Flat cork board sheet

* Rounded jewelry pliers
**Please note that the links provided above are affiliate links, and I will be compensated if you choose to make a purchase after clicking through.**
---
Mini Crocheted Snowflake Pattern
This pattern is a modified version of the Crocheted Snowflake Ornament pattern that I wrote for CRAFT.
Center: Ch 8. Join into a ring with sl in first ch.
Round 1: Ch 1, work 16 sc into circle. Join with sl into first sc.
Round 2: Ch 3 (counts as dc), dc into first sc, ch 5. Work [skip sc, dc into next 2 sc, ch 5] five times. Join final ch 5 with a sl into the top of beg ch 3.
Round 3: Ch 15, sl into first dc. Work [ch 5, work 1 sc into ch 5, ch 6, work 1 sc into ch 5, sl into dc, ch 15, sl into dc] five times. Ch 5, work 1 sc into ch 5, ch 6, work 1 sc into ch 5. Join final ch 5 with sl in beg ch 15. Fasten off and weave in ends.
---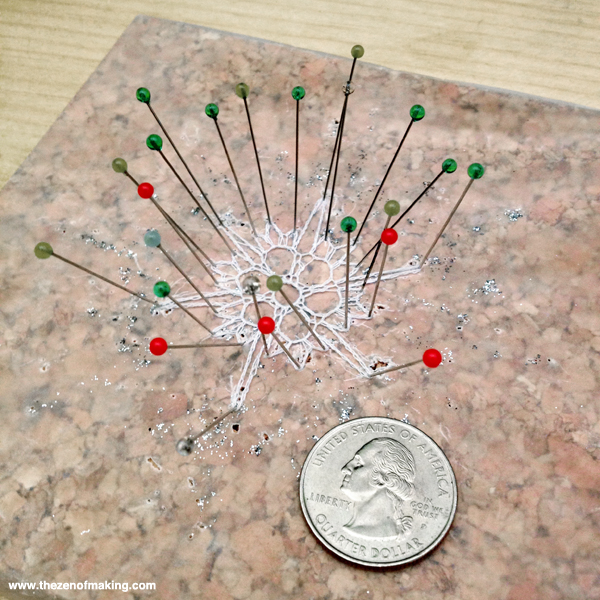 Hardening Instructions
Wrap a piece of wax paper around a flat piece of cork board, then stretch the snowflake into shape across the surface using straight pins to hold it in place. Once the snowflake is pinned, carefully saturate the thread with clear nail polish, applying glitter on top if desired. Allow the snowflake to dry overnight, then carefully remove the snowflake from the wax paper once it has dried completely. Use tweezers to remove any remaining bits of paper from the threads.
Making the Necklace
To turn the mini snowflake into a pendant, use rounded jewelry pliers to attach a jump ring through one of the long snowflake tips. To wear it, slip the finished pendant onto a chain necklace (or make your own).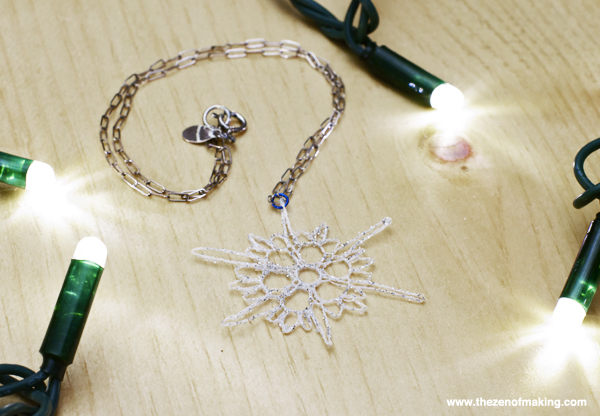 Happy Holidays, crafty pals!