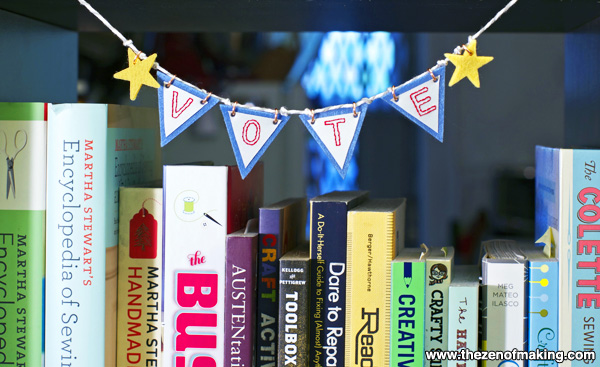 ☆ Happy Election Day, fellow crafty Americans! Now, get thee to the polls! ☆
Bonus Election Day craft:
Just in case you're in need of something to keep your hands busy tonight while you're waiting for the returns to come in, you can download my free mini "vote" bunting template and make your own Election Day bunting!
To make mine, I embroidered the letters on small cardstock triangles, then glued the stitched paper pieces to larger felt triangles. A few brass jump rings and felt stars later, I strung everything on a length of baker's twine and called it a day. There are endless options for decorating DIY bunting, so get creative with yours!
Need to learn how to use a printed template to embroider on paper? Check out my Embroidered Typography Wall Art Tutorial to see how it's done!