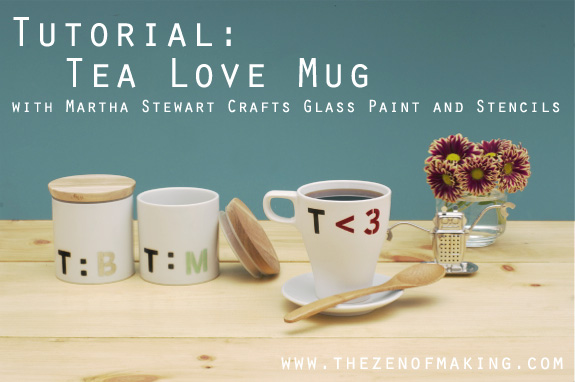 Painting glass just got a whole lot easier with Plaid's new Martha Stewart Crafts Glass Paint!
In this tutorial, I'll show you how to make your own geeky "tea love" mugs and a set of custom tea canisters using paints, stencils, and tools from the Martha Stewart Crafts Glass Paint line.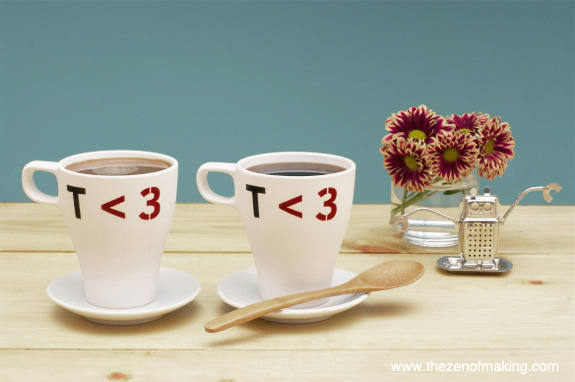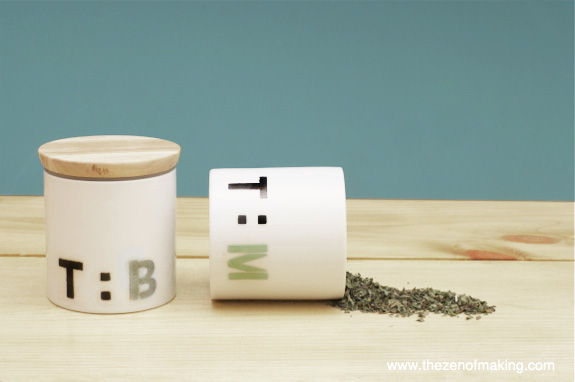 For this project, I came up with a simple "tea love" design using a "T" and an ASCII heart symbol ("< " + "3") from my stencil pack. Then, to keep the rest of my routine easy and organized, I used the same concept to add a color-coded mint tea label (T: M) to one storage canister and a black tea label (T: B) to the other. I adore my new tea accessories; the mugs make me smile every time I look at them, and the canisters look great on my kitchen counter counter. Ready to make your own? Let's get started!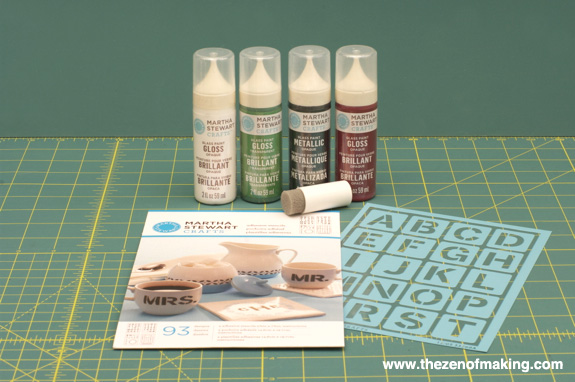 Supplies:
* Martha Stewart Crafts Glass Paint, Chipotle (gloss opaque finish), Spring Pasture (gloss opaque finish), Black Nickel (metallic opaque finish), Sterling (metallic opaque finish)
* Martha Stewart Crafts Adhesive Stencils, Bold Sans Alphabet
* Martha Stewart Crafts Glass Paint Tools, Glass Paint Dauber & Roller Set, Glass Scraper and Pick Set, and Glass Handled Squeegee Set
* 2 ceramic tea cups or mugs
* 2 ceramic kitchen storage canisters
* Rubbing alcohol
* Paper towels
* Q-tips
The new Martha Stewart Glass Paint Program from Plaid is available at Michaels stores.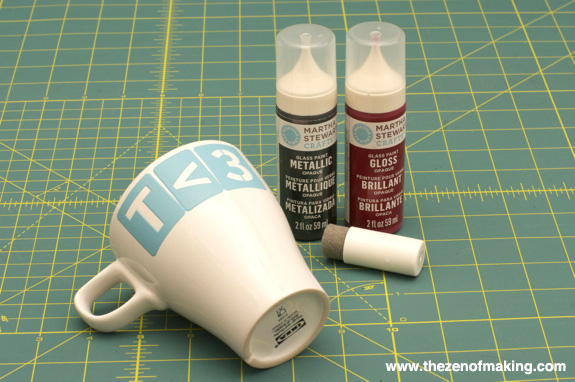 Step 1
Wash the mugs and canisters with soap and water, then dry them thoroughly. Before painting, remove any leftover residue by using rubbing alcohol to wipe down the area(s) to be painted.
When all surfaces are clean and dry, carefully peel the stencils away from the backing and press them into place on the mug or canister. To make sure that each stencil is completely adhered to the surface, put a paper towel over your fingers and press around the detailed areas and edges of each stencil. (The paper towel prevents you from depositing oils from your fingertips onto the surface of the ceramic, which can keep the paint from sticking properly.)
The stencil must be completely sealed to prevent the paint from bleeding into unintended areas.
Note: I eyeballed the placement of my stencils, but masking tape or a wax pencil can be used to mark straight lines onto the ceramics as needed. Keep in mind that the stencils are reusable, so they can be moved and straightened before you paint.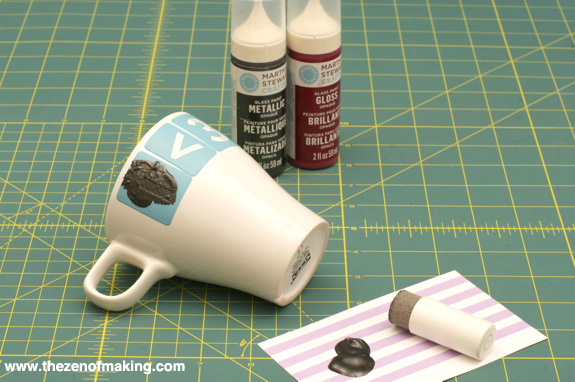 Step 2
Load a pouncer with a small amount of glass paint, then use the pouncer to apply a thin layer of paint over the stencil shape. Add a second layer of paint if needed, but avoid overloading the stencil surface, as too much paint can cause the color to seep under the edges of the stencil.
Tip: If you accidentally apply too much paint, you can use a small squeegee to gently remove the excess and smooth the surface.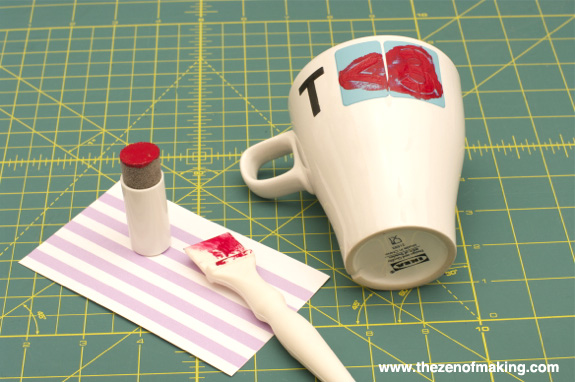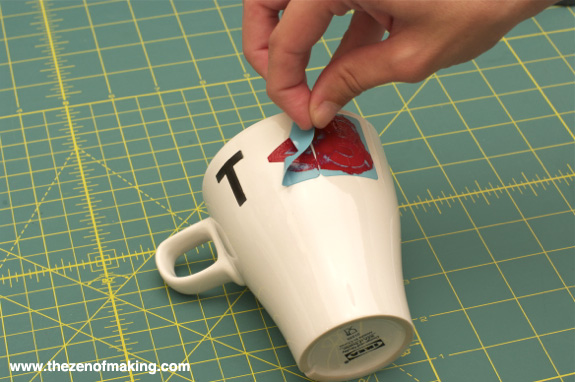 Step 3
Continue the painting process for all colors, then carefully peel the stencils off of the ceramic WHILE THE PAINT IS STILL WET.
Wash the wet paint off of the stencils immediately, then allow them to dry before returning them to the backing.
Tip: While the paint is still wet, you can clean up any accidental smudging or bleeding using the Martha Stewart Crafts Glass Scraper and a slightly damp q-tip.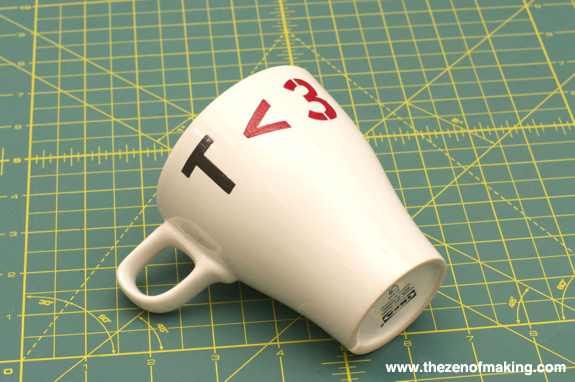 Step 4
Repeat the steps above to finish the second mug and apply labels to each tea canister. Once each piece has been painted, set aside all of the stenciled ceramics and allow the paint to air dry for an hour.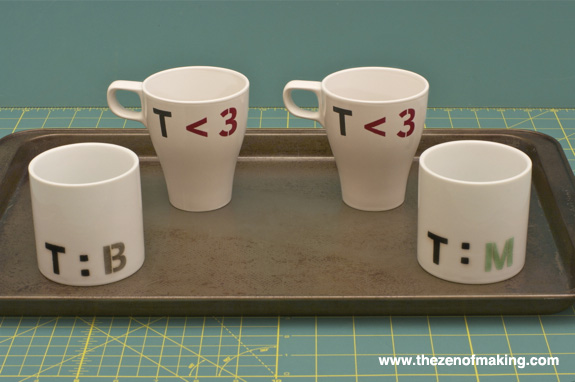 Step 5
To finish, cure the paint by baking the ceramics in an oven at 350° for 30 minutes. Important: The mugs and canisters will need to heat up and cool down gradually to avoid breaking. Before you start the baking process, read the complete glass baking instructions here.
If you don't want to/can't bake your project, you can also cure the paint by allowing it to air dry for 21 days.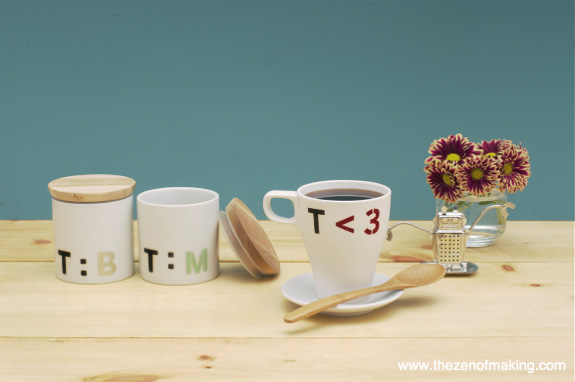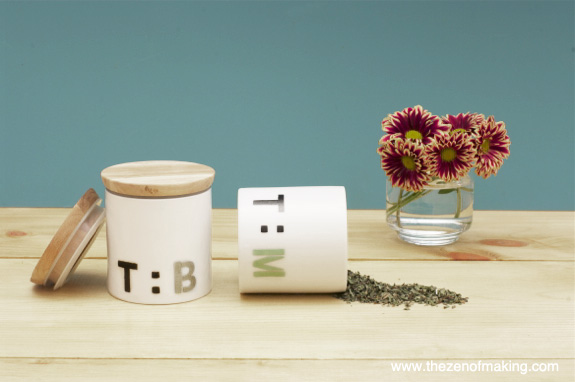 I'm really digging my new personalized mugs and canisters, and I already have ideas brewing for several more projects! What's the first thing you'll customize when you get your hands on some Martha Stewart Crafts Glass Paint?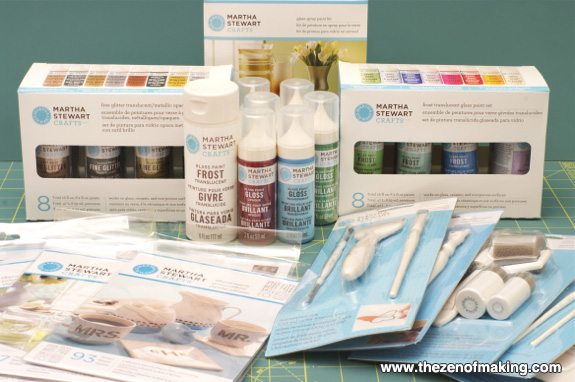 A big thanks to Plaid for providing such a wide variety of new products for me to try—I was in glass painting heaven while I designed this project!
For more information, you can also check out Plaid on Twitter, Facebook, and Pinterest!
Disclosure: This post was written as part of a paid campaign with Martha Stewart Glass Paints and Blueprint Social. The opinions in this post are my own.
More Martha Stewart Crafts Glass Paint Projects: