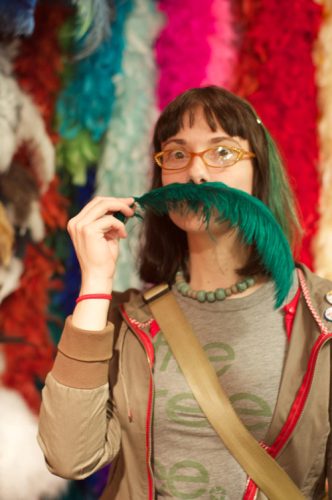 In case there was ever any doubt, I can rock a craft store feather mustache like nobody's business! (And that's what makes me awesome.)
My husband snapped this photo in a craft store called PRESSER AG – Das Haus mit 1001 Bastelideen (translation: PRESSER AG- The House with 1001 Craft Ideas) in Basel, Switzerland while we were on vacation last month. And, despite the fact that I clearly did not have my maturity in check that day, you'll be relieved to know that no international incidents were triggered as a result of my unauthorized playing.
The US State Department already appoints cultural ambassadors, but don't you think they should appoint craft ambassadors too? FEATHER MUSTACHES FOR EVERYONE! HUZZAH!

---
Should you find yourself in need of a feather mustache in Basel:
View Larger Map
Fair warning: Like pretty much everything else in Switzerland, craft supplies are hell of expensive (think $400 or more for a Spellbinders Grand Calibur). Don't expect to find any deals, but do expect to come home with something awesome; the stores stock a ton of items that simply aren't available here in the US. If you're into specialty felt, mini figurines, customizable wooden pieces, and high-end needlework textiles, you're going to be in DIY heaven! (PRESSER AG is where I picked up my mini treadle sewing machine.)