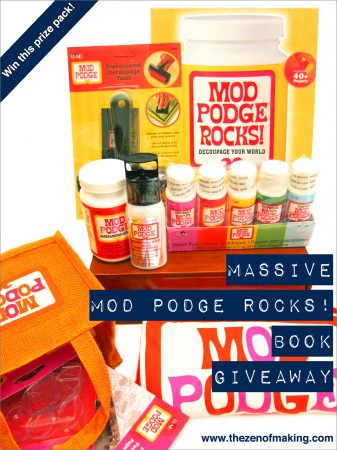 My crafty pal Amy is the undisputed queen of decoupage. How do I know? She wrote the book, of course! Mod Podge Rocks!: Decoupage Your World
So, in celebration of Amy and her awesome new book, I'm hosting this Massive MOD PODGE ROCKS! Book Review and Giveaway! (Special thanks goes to Amy and her Mod Podge Rocks! blog, Lark Crafts, and PLAID, who provided the items for this giveaway.)
The giveaway prize pack includes the following:
Mod Podge Rocks!: Decoupage Your World, by Amy Anderson
Mod Podge Starter Pack
Mod Podge Dimensional Magic
Mod Podge Professional Decoupage Tools
Mod Podge Tee Shirt
Mod Podge Original
3 Mod Podge Podgeable Paper Books
Mod Podge Podgeable Shapes

See the entry information below.
Mod Podge Rocks!: Decoupage Your World
According to the Lark Crafts site:
Mod Podge Rocks! features over 40 simple, inexpensive decoupage projects that showcase the versatility of this celebrated product. Contemporary, fun, and welcoming—just like author Amy Anderson's popular Mod Podge Rocks! website-the book includes everything from home accessories and holiday decor to wearables and jewelry. Joining Amy herself as guest project designers are some of the hottest names in crafting, such as Cathie Filian and Candie Cooper. A basic section outlines the simple techniques, and each project features beauty shots, easy-to-follow instructions, and how-to photos.
What I loved: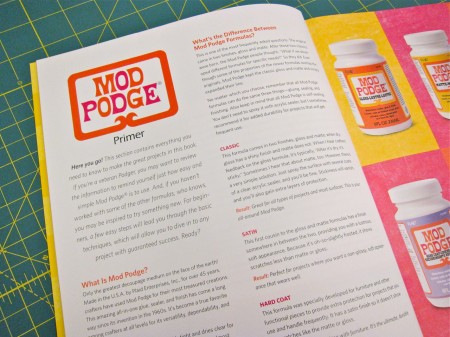 1. In case you're new to the world of decoupage, the book begins with an introduction to Mod Podge, and explains the properties and uses of the different formulas.
This section is helpful to beginners, but it also makes a great quick reference sheet for more experienced Podgers.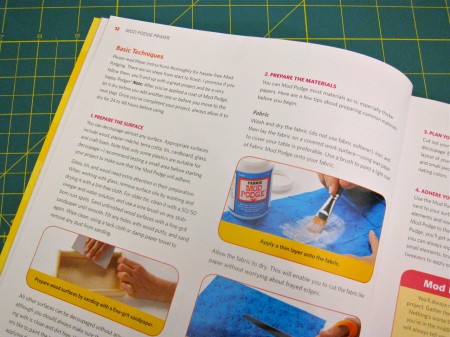 2. The Basic Techniques section shows you how to prepare surfaces and materials for decoupaging, then takes you through the complete process with clear and easy to follow step-by-step instructions. This section also outlines the "Mod Podge Tool Kit" that will be used for all of the projects in the book. The result: At the end of this section, even a total Mod Podge novice will feel prepared to take on any project in the book.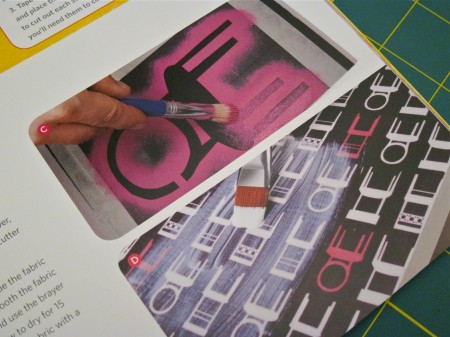 3. The instructions for each project are clear, complete, and easy to follow. From the start, you'll know exactly what you need and what to do to achieve the results shown in the book.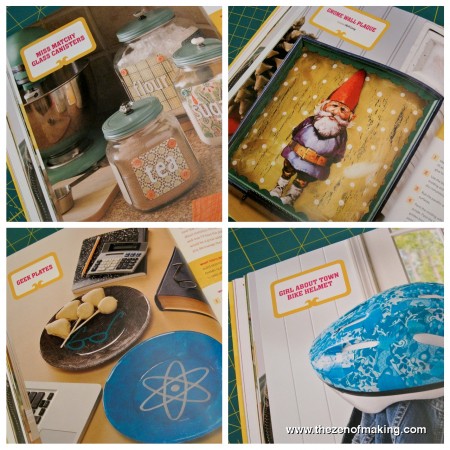 4. The book contains more than 40 projects, including wearables, home decor, and holiday projects.
If you were expecting only paper crafts, think again. The projects featured in this book range from the geeky and beautiful to the downright hip! I included a few of my favorites above.
Ready to get your hands on the book, plus a whole box of supplies to help get you started? Enter the giveaway below for 6 ways to win!
Giveaway:
a Rafflecopter giveaway

Terms and conditions:
The winner will be announced on Friday, June 15th, 2012. If your entry is selected, I will contact you directly for your mailing address, and will ship the prize pack to you via USPS. At this time, I can only ship to addresses within the United States. (Sorry, international readers!) Please note that neither Haley Pierson-Cox nor Red-Handled Scissors is responsible for items lost due to shipping or delivery errors.
Giveaway is open to US residents 18 and older only, and is void where prohibited. No purchase is necessary to win, and the odds of winning are based solely on the number of entrants. This giveaway is in no way sponsored, endorsed, or administered by, or in any way associated with, Facebook or Twitter. Entrants are providing information to Red-Handled Scissors and not to Facebook or Twitter.
Please note: The book links provided above are affiliate links. I will be compensated if you choose to make a purchase after clicking through.