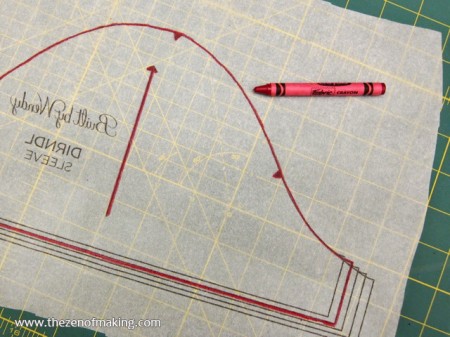 Did you know that you can use fabric crayons to duplicate paper patterns and transfer marks onto fabric?
I've seen some fancy oil pastel-like options out there, but I generally use standard Crayola Fabric Crayons. They're inexpensive, they're easy to find, and they get the job done.
Method 1:
Duplicating Patterns or Transferring Marks to a Piece of Paper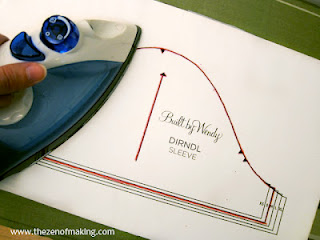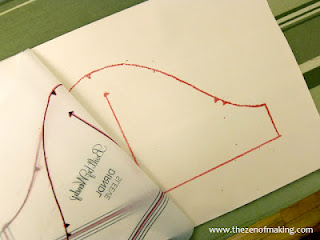 To duplicate a paper pattern, use a fabric crayon to trace the pattern lines on the back side of the pattern, then use an iron on a low setting to press the traced lines onto a new sheet of paper.
If you're duplicating a pattern that you can't see through, trace the lines on the front of the pattern, but remember to flip it over once you've cut it out so your pattern isn't mirrored.
Method 2:
Transferring Marks from Patterns to Fabric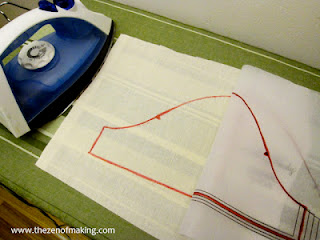 Much like using a transfer pencil for embroidery, you can also use fabric crayons to transfer marks from a paper pattern directly onto fabric. To do this, trace the pattern lines on the back of the pattern, then use an iron on a hot setting to press the paper to the cloth.
This method is great for quickly making muslins or for working on projects with a seam allowance, but it probably isn't the best option for delicate or fine fabrics, since the marks are permanent and quite bright.
***
Obviously, this process won't work in every situation, but it's definitely a good trick to have in your crafty toolbox, especially if you're fitting muslins, updating patterns, or sewing on the go!
Note: Before ironing, put an extra layer of paper or scrap fabric between your materials and the ironing board. The color can bleed through thin fabrics and paper.
Please note that the link provided above is an affiliate link, and I will be compensated if you choose to make a purchase after clicking through.