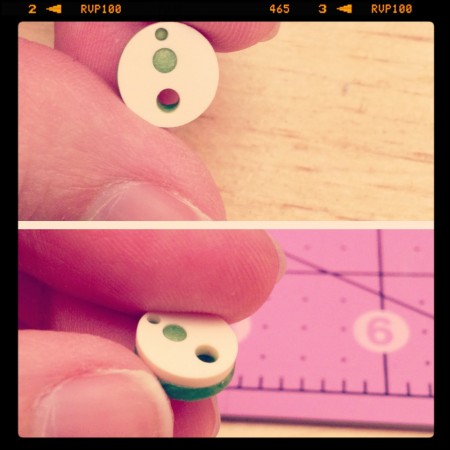 Over the past few days, I've been working on a new jewelry project. While experimenting with different ways to connect two pieces of shrink plastic, I spotted a block of Sculpey on my work table, and decided to try combining a piece of already-baked shrink plastic with some polymer clay. As it turns out, because the baking temperature of the polymer clay is lower than the shrinking temperature for the plastic, it's absolutely possible to bake clay without warping a finished plastic piece.
To be honest, I'm not really in love with my test beads—they're kind of boring, and the almond plastic and pearlescent green clay don't exactly go together—but I'm totally geeked that it actually worked. I can't wait to use the plastic-and-clay method for future projects!
Neat, right? Have you tried it?