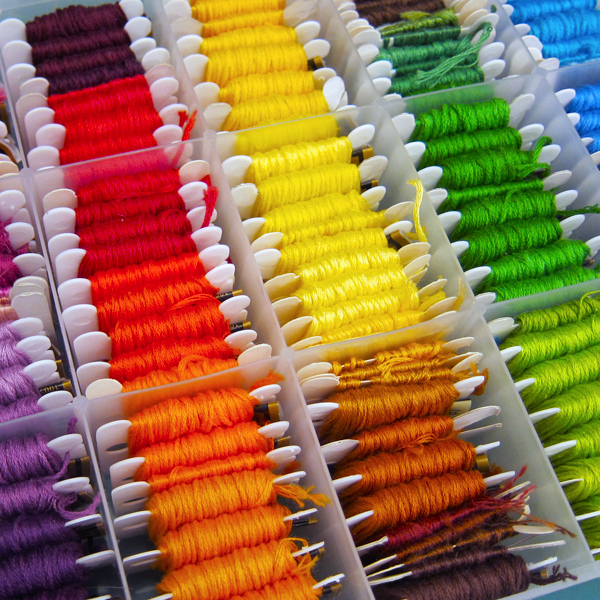 It's almost the New Year, and I'm hard at work tidying up my studio and getting everything in order for a fresh, organized start in 2012! My first big project in this year's clean-up: finally tackling my Massive Embroidery Floss Problem.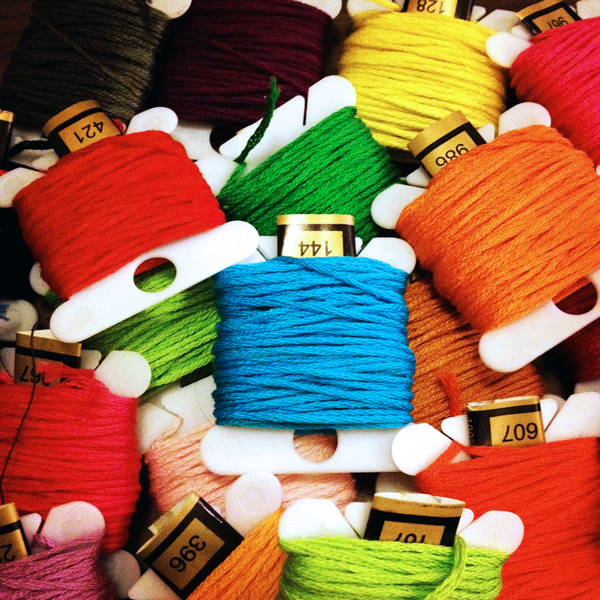 If you embroider or cross-stitch, then you're familiar with the drill: You're out at a craft store and you suddenly find yourself surrounded by skeins of beautiful embroidery floss. (How'd that happen?!) You just can't help yourself—you're sure that you're out of some of these colors, and if not, you'll definitely use them up someday anyway, right? (Sure you will!) Then, when you get home, you unceremoniously dump all of those lovely skeins into the floss drawer, only to have them reemerge in one giant multi-colored ball at the precise moment when you're on a deadline and need that color NOW.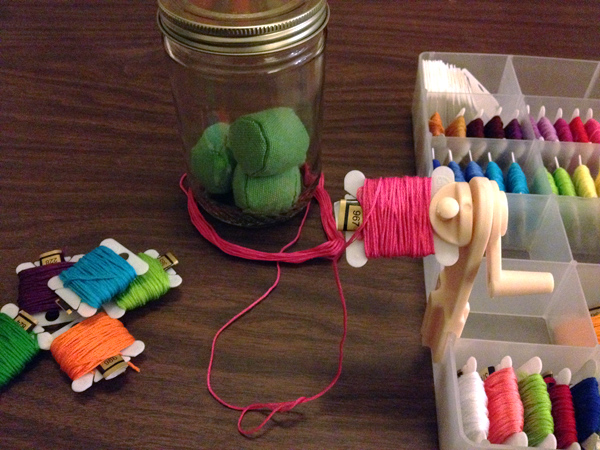 Sound familair? Here's what you need to fix it:
Tools:
• Embroidery floss bobbin winder (I used the DMC Plastic Bobbin Winder.)
• Plastic embroidery floss bobbins (Get enough for your entire stash—guess high, then round up even more!)
• Glass jar with something heavy in the bottom to hold it in place
• A full season of your favorite mindless television show (I watched a ton of Law & Order: SVU.)
Step 1:
Gather the floss, bobbins, jar, and winder.
Step 2:
Turn on mindless TV.
Step 3:
Set up the glass jar feeder.
To make the winding go faster, I used a glass jar to feed the floss to the bobbin, which kept it from knotting and tangling. To use the jar feeding method, find the center of each skein (most skeins are wound in a circle then folded in half), then wrap it around the jar before you start winding the bobbin.
Step 3:
Start winding the floss onto bobbins, and keep going until you're completely finished. (If you've got a serious stash, you should also remember to take breaks to eat, go to the bathroom, and walk around the block!)
Tips:
• I initially tried to wrap my bobbins by hand, but quickly realized that a bobbin winder was the way to go. The time saved is more than worth the couple of bucks that you'll spend.
• To keep track of your floss colors, tape the tag with the color number to your bobbin before you start winding.
• Do all of your winding in one fell swoop, because you probably won't come back to it!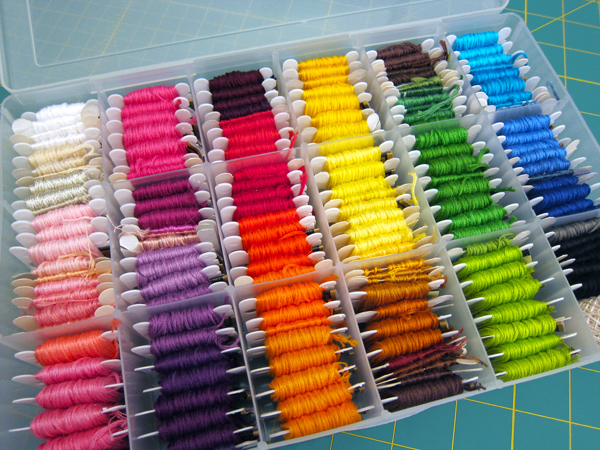 Ah, the zen of having everything in its place!
How do you organize your floss?