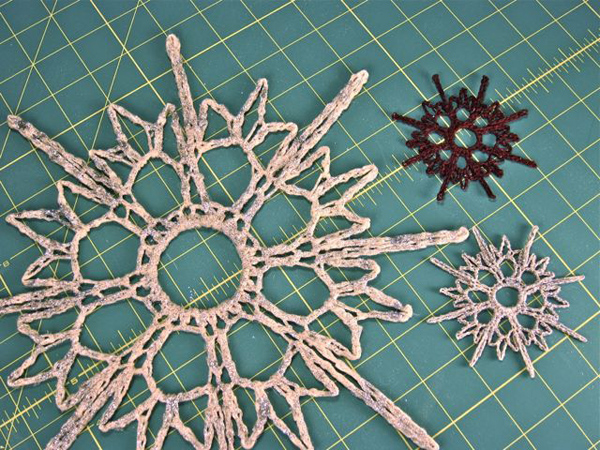 Yesterday, I had a crazy idea. At least, it might be a crazy idea. It could also be brilliant. We'll see. But, at the heart of this crazy idea was a GIANT crocheted snowflake, which, to complicate things slightly, I wasn't sure that I could actually make. But, never one to shy away from a challenge, I merrily got to work on some proof-of-concept tests anyway. When I started hooking, I had no idea whether the tiny lace snowflake pattern that I had written for CRAFT would even translate to something so large, and, if it did, I wasn't so sure that the the white glue and water hardening method that I'd been using for my tiny snowflakes would work for something that ended up being the size of my head.
So, it is with much excitement that I tell you that, with the first round of testing down, my affectionately nicknamed big-ass snowflake was a huge success! There was quite a bit of trial and error—and a second, much thicker layer of hardener— but I think it's going to work! This morning, when I took the BASF off of the blocking board, it was perfectly hardened and looked fantastic. Huzzah!
Who else is up to some crazy holiday project antics?