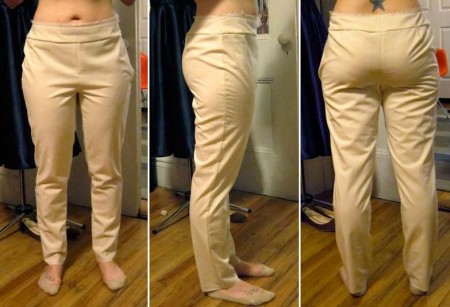 Over the past few days, I pushed aside my firm belief that sewing pants is a TERRIFYING idea, and made my muslin for the first step of the Colette Patterns Clover Trouser Sewalong. And, wouldn't you know, it wasn't actually that bad! The pants themselves are very simple to construct; there are only four pattern pieces, not including the optional pockets. I'm hoping that making such a simple pair of pants the first time around will allow me to learn the basics of pants fitting without feeling overwhelmed, as I'll only need to change a few pieces with each adjustment.
Though I might be feeling pretty optimistic right now, basking in the afterglow of a successful muslin construction, the hardest part is still very much ahead of me. As the photos above no doubt illustrate, I'm not a fits-off-the-rack kind of girl. As I lamented when I was sewing my Emmy dress, I'm a very petite lady, but I've got curves. And, in the same way that being petite doesn't make me skinny, having curves doesn't make me chubby. It does, however, make me hard to fit. I've got a small waist and narrow hips, but I also have muscular thighs (thanks, years of gymnastics!) and a sizable backside. Did I mention that I'm also 5'2″ and 110lbs? If I sized up to fit my butt, I'd drown in fabric everywhere else! So, as suggested in the pattern instructions, I took my measurements and chose the closest size, erring on the side of too big rather than too small, so I would have some room to work when I was fitting. My end results were not unexpected: the legs fit fine, but the waist was too big and the butt was too small.
According to the Colette Patterns Pants Fitting Cheat Sheet, I will need to make the following adjustments to my pattern during the sewalong to ensure a good fit:
• Smaller waist adjustment
• Shorter torso adjustment
• Full butt adjustment
Hold me, I'm afraid!