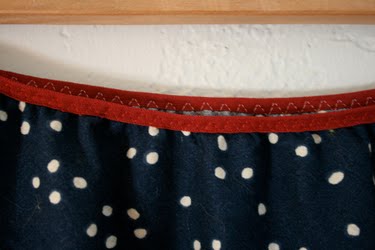 Above: FOE in action from the Angry Chicken 5-Minute Skirt
I've been fighting with my latest sewing obsession, fold-over elastic, for days. I just haven't been able to figure out how to keep the stretch consistent, specifically on non-stretchy fabric, where I need an even gather. (It probably doesn't help that I'm trying to learn with the world's most slippery fabric.) So, today, I finally had the good sense to hunt around on the internet for tutorials, and now everything makes complete sense.
First, if you don't know why in the world you would ever need fold-over elastic, check out the 5-Minute Skirt on Angry Chicken.
Now, watch the tutorial so you don't waste a whole day (or three) yelling expletives at your sewing machine. (See: Me on Friday.…and Sunday.)