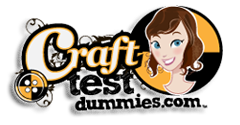 Did you know that, in addition to writing Red-Handled Scissors, I'm also the newest contributor to Craft Test Dummies? I'll be reporting on needle crafts, sewing, books, and yarn crafting for the site, plus I'll be the contributing reporter at CHA Summer 2011. (!!!) I'm both honored and totally excited for the opportunity to spread my craft love to an even wider audience!
Check out my first review: Craft Product Review: Martha Stewart Crafts Embroidery Kits
If you aren't already a daily Craft Test Dummies reader, you're definitely missing out. Have you ever wondered if that crafty tchotchke that you've been eyeing is really worth the price? Do you want honest reviews of the latest craft tools, big and small, from someone who has actually taken the time to thoroughly test them (and in a real-life setting)? Well, look no further—Jenny's got you covered.